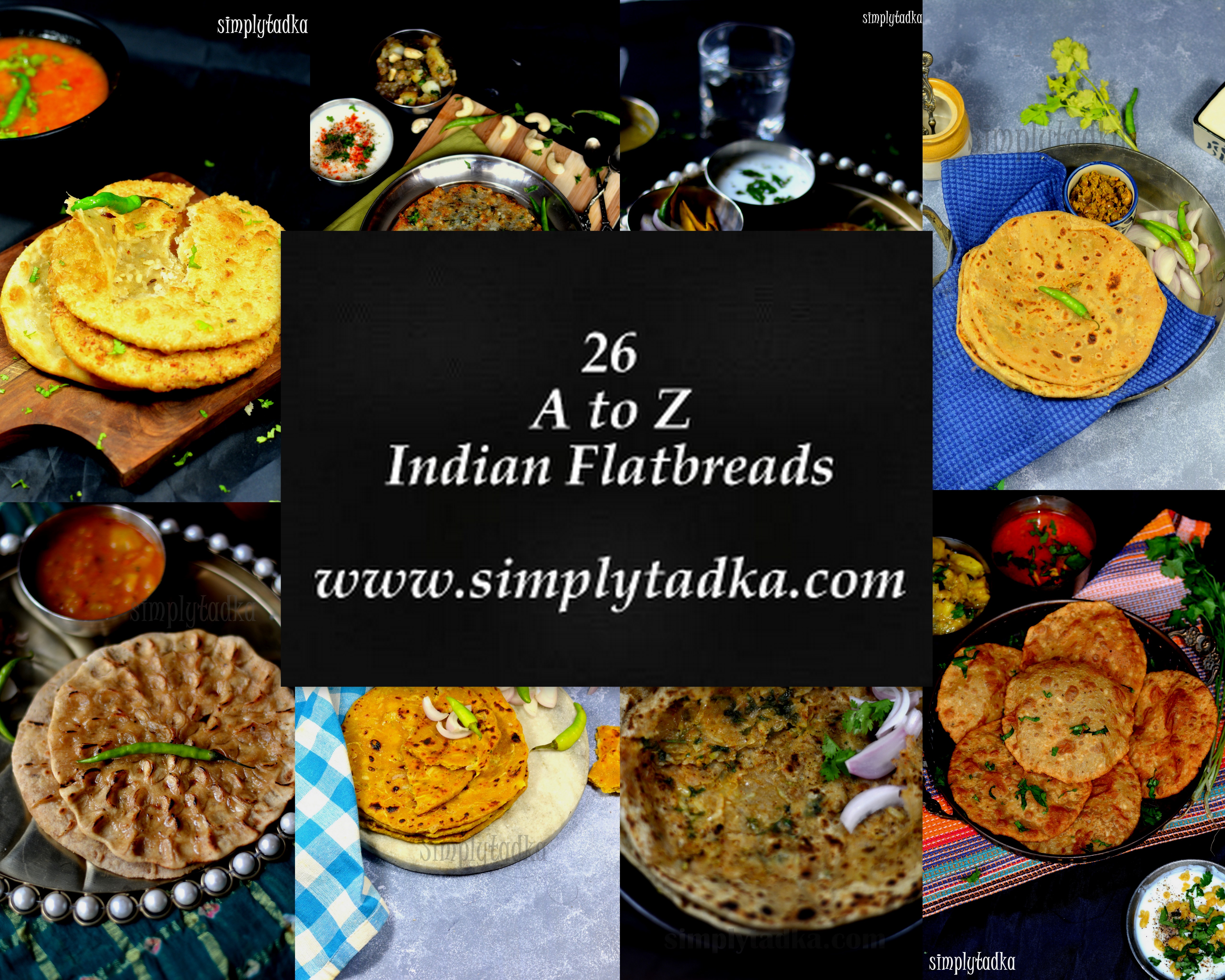 A variety of tasty flat breads are made in India, to be served as part of lunch or dinner and sometimes as breakfast too. A roti is cooked on a tava or on an open flame, while a puri is deep-fried. On the other hand, a paratha is a category of Indian bread that is stuffed or spiced-up. Across the country, each community has its favorite type of flat bread and indigenous ways of making them. Rotis, puris and parathas are usually had with subzis and dals or with accompaniments like curds and pickles. Categories under Indian breads are Rotis & Phulkas, Parathas, Pooris, Crepes and Dosas, Pitted Breads and more.
Under A to Z Indian flatbread Challenge hosted by Srivalli, I shared 26 different but delicious Indian flatbreads which includes only parathas, pooris, roti and pitted breads either they are cooked on tawa, tandoor, oven or deep fried.
Today I feel very happy to complete my mega marathon successfully. I want to thanks to all my blogger friends who also participate in this theme with me and big congratulate to Srivalli for one more mega marathon. This Sept Month's marathon theme was "Flatbread and More" in which further three sub themes i.e. International Breads, Indian Breads and Indian Flatbreads. I choose Indian Flatbreads.
Here is some roundup of all 26 Indian flatbread collection.
6) Farali Thalipeeth or Sabudana Thalipeeth
7) Green Chili Paratha or Hari Mirch Paratha
8) Hare Chane Ka Paratha or Choliya Paratha
10) Jowar Bakhri or Jowar Roti
13) Methi nu Dhebra | Gujarati Methi Dhebra
23) Whole Wheat Puran Poli Recipe
24) Sattu Ka Paratha | Xtra Special Sattu Ka Paratha
25)  Yellow Dal Poori | Leftover Dal Poori
26) Zucchini Koki | Sindhi Koki Recipe
Here you can check my other Indian or International Breads Collection.