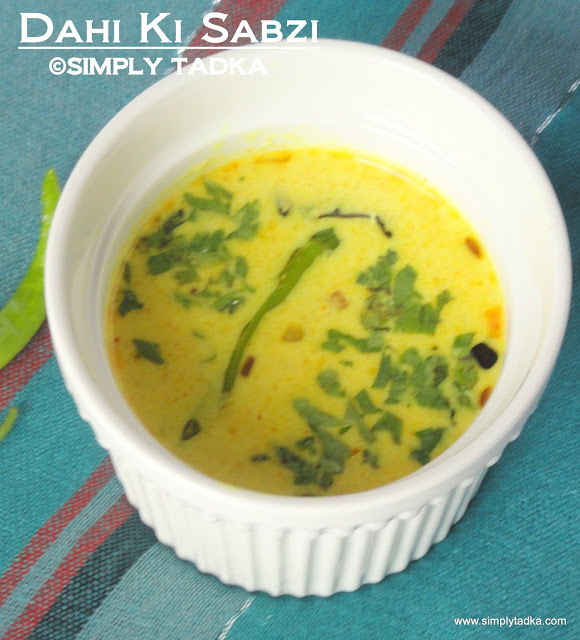 Last Updated on
Today I publish "Dahi Ki Sabzi" under "Cooking
with Curd" theme as Punjabi tradition. For this recipe, you have to cook curd
with spices and onions. It's a very easy and quick recipe for any time meal. In
Punjabi families, they prefer to made dahi ki sabzi mostly with pranthas as
breakfast meal. It's a look and taste like kadhi but quite different in cooking
techniques. Curd is very useful in improving digestive system and gives more
strengthen to immune system.
Curd is prepared by
fermentation of milk. It is said that curd provides more nutritional values
than milk. Curd or yogurt is dairy product which provides lot of health benefits
to the human beings. It is not only and important part of the diet but
also can be efficiently uses as a beauty product.
Preparation
Time: 10 Minutes
Cooking
Time: Under 15 Minutes
Servings: 2
Category: Veg Curry


Ingredients:
1 Cup Yogurt
1 Small Sized Onion, Chopped
1/2 Tsp. Cumin seeds
1 Tsp. Clarifying Butter
1/2 Tsp. Ginger, Grated
1/2 Tsp. Green chili, Chopped
1 Whole Dried Red Chili
1 Whole Green Chili
Salt to Taste
1/4 Tsp. Turmeric Powder
Red Chili Powder to Taste
1/2 Tsp. Coriander Powder
1/4 Tsp. Garam Masala
1 Tbsp. Fresh Coriander leaves, Chopped
Pictorial:
Saute cumin and whole chilies
Saute onion and ginger
Add spices and curd
Add salt and garam masala and cook for 1 minutes more
Direction:
Heat the oil in pan and sauté cumin seeds,
when they start splutter.
Add grated ginger, green chili and red chili. Add chopped
onion and cook till to translucent.
Add turmeric powder, red chili powder,
coriander powder and sauté for two minutes more.
Add yogurt, salt and garam
masala and stir for last two minutes more.
Remove from the flame and garnish
with green coriander.
Serve hot dahi ki sabzi with phulkas.
Enter your email address:
Delivered by FeedBurner