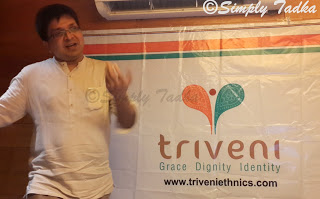 Last Updated on
Sari or saree is a South Asian dress that
consists of a drape varying from five to nine yards in length and two and four
feet in breath that is typically wrapped around the waist with one end draped over
the shoulder. The saree is the traditional outfit of women in India and
the Indian subcontinent. The saree is perfect attire for all occasion and
festivals to celebrate with family in India. Cotton sarees are easy to wear and
are very comfortable during the summer season. The silks are used as formal or
professional wear. Sarees are also a reflection of the status, religion and
economic condition of the women who are wearing it.
Indian saree represent
the Indian culture and tradition through colors, prints and designs. Triveni
brings latest Indian sarees with most beautiful designs, prints and gorgeous
work for all purposes like casualwear, partywear, bridalwear, officialwear. Each
design is unique and different.
Trivenisarees.com has
special collection of designer bridal wear, sarees, lehengas, ethnic salwar
kameez and kurti. All are available with heavy embroidery, gorgeous designs,
prints and handwork with original fabrics. Each saree available with color
combination blouse helps to complete your outfit for special occasion. Triveni
sarees are available in every range from normal to high, fashionable to casual
wear. You would be amazed to see their bridal collection available
in best prices especially heavy designer lenengas.
Another
significant feature of Triveni Sarees is Iness.com and hues & vibes. Iness
is specialized feature where customer will interact with designer directly
about taste, preference, color choice and design what they want in own outfit,
they can feel personalized touch.
Triveni
sarees… one visit at their online store and convince you by beautiful designs
at affordable prices. If you love the sarees or ethic wears, will definitely
fall in love with this collection. Even customization processes also available
where you can choose own design and color and they will create for you. If you want to buy or
visit the fashionable store online, just click on
www.trivenisarees.com
order your product online and will reach at
your doorstep on time. Indian traditional clothe is combination of more fabircs
like chiffons, silk, cotton, zardosi, crepe and more with pretty border and
embroidery work.
Saree Draping Workshop


From left to right: Knot style, simple trendy style, Scarf style
Casual Wear, Bengoli Style, Trendy pallu style
Pretty Bloggers as Brand Model for
Trivenisarees.com (Gallery)
Time to have some refreshment


Why Shop Ethnic wear at Trivenisarees.com
?
Exclusive
Designer collection
Home
Delivery
100%
Secure Site
Easy Returns & Exchange
Refundable Reward Points on Shopping
About us:
Brief History:
In
1985, Mr Giridhar Sarraf moved to Surat, the rapidly growing textile hub of
India, to setup Sakambari Silk Mills. Sakambari manufactured synthetic sarees
under the brand name "Triveni Sarees". In 2011, we setup
TriveniSarees.com – to take the fabulous Triveni collection worldwide, online
and a few clicks away. We started directly interacting with our customers – we
listened to you, we added Salwar Suits, Lehenga Cholis, Lehenga Sarees, Kurtis,
Jewellery, Cotton and Silk Sarees to our collection. Triveni became Triveni
Ethnics.
Vision: We envision a World where grace, dignity and
identity are expressed through the vibrancy of ethnic apparel.
Mission: To enable & inspire every individual to
experience, understand, respect and explore cultures through personal
experiences of ethnic apparels.
Initiatives: We come from 30 years of Saree
manufacturing experience. Our e-retail now has expanded to include overall
ethnic wear & accessories. Here are some of our more recent initiatives:
Our recently launched
Iness.in
brought in innovations that will help
Designer e-Commerce fly like never before. Triveni's foray in home &
kitchen –
Hues
& Vibes
is already readily available online.
Triveni Labs
brings together the innovation attitude
& technological know-how in building technology for small & medium
scale enterprises.
Management
Team: Arvind saraf
(Director) and Shalini Raj (Head Designer)
Address: 1018-1025, First Floor, Anupam Textile,
Ring Road, Surat – 395002, Gujarat, India
Tags: Sarees, Trivenisarees, Triveniethnics, triveni, review, simplytadka, bridalwear, sareewear, sari, designersaree, onlinesareeportal, fashion, ethnic wear, indian clothe.
Enter your email address:
Delivered by FeedBurner