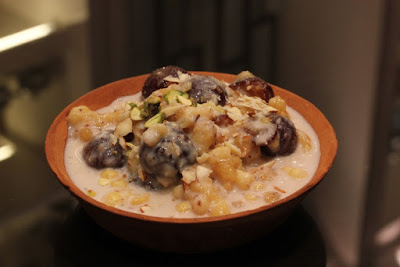 Last Updated on
Add
more colours to your life with an exotic brunch at MoMo Cafe!
This
Holi, splash the colours of joy in your life with Courtyard by Marriott
Gurgaon's exclusive 'Holi Lunch'. Step in to MoMo Cafe to experience a
colourful culinary treat at MoMo Cafe with a large spread of traditional and
contemporary preparations.
To
mark the festival of colours, Chef Amit Dash, Executive Chef at Courtyard by
Marriott Gurgaon has designed a special Holi lunch menu. The vibrant buffet
will showcase a stellar array with original Indian flavours coupled with
colourful and elegant desserts to augment the joyous and vibrant Holi
afternoon. Traditional Holi fare such as Niyamat biryani, Asian Style
Chicken Wings, Palak Peanut Kebab along with Pani Puri, Chaat and Dahi Bhalla
live counters and a lot more will be on offer. Not to miss the traditional
thandai and Gujias.
The
perfect get together with family and friends on a leisurely holiday to share a
hearty meal, Courtyard by Marriott Gurgaon will truly make this Holi experience
a memorable one!
Restaurant:
MoMo
Cafe, Courtyard by Marriott Gurgaon
Date:
Thursday,
24th March 2016
Time:
12:30
pm to 3:30pm
Pricing:
INR
1450 plus taxes with soft beverages
INR
2250 plus taxes with alcoholic beverages
Enter your email address:
Delivered by FeedBurner