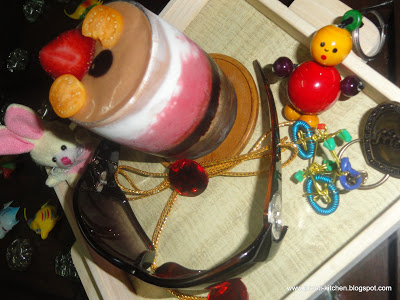 Last Updated on
Award Time
I am very happy and deeply honoured to accept the 
Liebster Blog award
 from my lovely blogger friend 
"Poonam Borkar"
. This is first time when my blog get this honor form my friend.
Thanks you so much Poonam for such a wonderful award. Please visit Poonam's space "
Kande Pohe
" and check out her delectable and fantastic posts.
Now something about this award. Copying this information from Poonam's Blog;
"Leibster" means dearest in German and as with any award, there is bit of a ceremony involved. These are the rules if you accept the award:
·      Copy and paste the award on your blog. Link back to the blogger who gave you the award.
·     Pick your five favourite blogs with less than 200 followers who deserve to be noticed and leave a comment on their blog to let them know they have received the award.
·   Hope that the five blogs chosen will keep spreading the love and pass it on to five more blogs.
So, here is my fav. Blogs for this award are;
Please join me on my blog, its pleasure for me…..
Do visit their wonderful blogs. On this occasion, I want to say thanks to all my blogger friends for their support and so much of love. Love you all 🙂
Today I post "Sweet-Tangy Dessert". It's a unique and wonderful trial by me in dessert. It's a combo
for different flavor like tangy, sweet, crunchy, juicy, chocolaty, and so more
on different layer. It's a dessert of five different layers, so very difficult
for me to give a good and attractive name to this dessert.  I'm little confused between two name, one is
five layer dessert or second is sweet- tangy dessert. But at last I choose "Sweet-
Tangy Dessert. It's a simple and easy dessert. Its consume very few minutes in
preparation but still consuming nearby 2 -3 hours in chilling or set in proper
layer. Hope so my viewers and friends like this on the occasion of valentine
week.
Ingredients
Digestive biscuit (Britannia Marie gold biscuits)
Cornflakes (strawberry flavour)
Butter (melted)
Dark chocolate (melted)
Strawberry (fresh and chopped)
1 tbsp. milk
Sugar
Vanilla ice-cream (room temperature)
Cape gooseberry (chopped)
Nutella chocolate spread
Directions
For first and bottom
layer: (crunchy taste)
Grind the cornflakes and digestive biscuit (1:2 ratios) in grinder
and add melted butter in powder mixture. Mix well and set individually in
serving glass at the bottom as a first layer. Place in freezer to set for 15 minutes.
For second layer:  (chocolaty taste)
Take a dark chocolate in bowl and melt it with butter in double
boiler or in microwave. Now set as second layer in glass and again place the
glass in freezer to set for 15-20 minutes.
For third layer: (Sweet
and Tangy taste)
Add chopped strawberry, 1 tbsp. milk, sugar (according to taste or
use sugar substitute) and blend it till get smooth puree and now set as third
layer or top of chocolate layer in glass and again place in freezer for half an
hour to set.
For fourth layer:
(Creamy and Sweet taste)
Take vanilla ice-cream in room temperature (because it's easily take
proper shape in glass) and set as fourth layer in glass and freeze it for 15-20
minutes.
For fifth and top
layer:  (Tangy taste)
Add chopped Cape gooseberry, nutella cocoa spread, and very small piece
of ice-cream (only for creamy texture, don't use more otherwise its change the
color). Blend it till to get smooth consistency. Again same set as top layer
and place in freezer for 15-20 minutes to set.
For garnishing
Use chopped strawberry and Cape gooseberry fruits and chocolate
sauce for decoration and serve chilled.
Tips
You can change the
layer according to your taste or availability of fruits and ice-cream. But please
take care of color combination and chill temperature otherwise it will be mix up
with each other. I prefer light and dark color combo in this dessert.
 Submit this to following events…