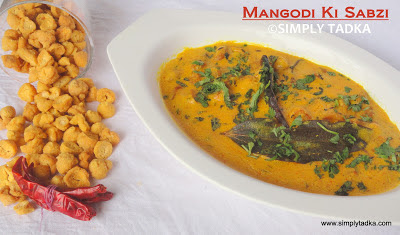 Last Updated on
Earlier in my grand mom times, badiya or
mangodi or dried gram dumpling were made at home in large quantities. Whenever
they were planned to made this dumpling, full family comes together and made at
one place. It was really fun and enjoyable but now-a-days because of busy
schedule no one has time to make mangodi at home. For mangodi, you can use any variety
of lentils as yellow gram, green gram, chickpeas and more. This time I prefer
to use yellow gram dumpling.
Today I want to share "Mangodi ki Sabzi or
Yellow Gram Dumpling Curry" recipe with all of you. It's a part of Marwari or
Rajasthani region where people use homemade mangodi and cook it with curd and tomatoes
as curry or gravy form. You can add potato, spinach or any preferable vegetable
in this recipe.
In Marwari families or Rajasthani culture;
they are prepared mangodi or yellow gram dumpling. For this you have to soak
the yellow gram lentil overnight in water and grind them with little water,
salt and asafoetida and chili powder till to smooth batter. Grease the
polythene and pour the small size balls over the sheet. Let it dry in sun for
2-3 days. When dried completely, store them in airtight jar.
Preparation Time:
15 Minutes
Cooking
time: 20 Minutes
Serving: 3
Category: Veg Curry


Ingredients:
1/3 Cup Yellow Gram Dumpling/ Mangodi
2 Tbsp. Clarifying Butter
1/4 Cup Tomatoes Puree
1 Tsp. Ginger, Grated
1 Tsp. Green Chili, Chopped
1/4 Cup Curd/ Dahi
1 Tbsp. Gram Flour/ Besan
Red Chili Powder to taste
Salt to taste
1 Tsp. Coriander Powder
1/4 Tsp. Garam Masala
1/4 Tsp. Turmeric Powder
1 Bay leave
2 Dried Red Chilies
1/2 Tsp. Cumin Seeds
Pinch of Asafoetida
1 Tbsp. Green Coriander, Chopped
Pictorial:
Instructions:
Heat the 2 tbsp. ghee in pan and shallow fry
the mangodi till to crisp and golden brown.
Drain and keep aside this mangodi.
Add
the curd, gram flour, salt, red chili powder, coriander powder, turmeric powder
in separate bowl and beat well till to smooth batter.
Heat the remaining ghee
or oil in pan.
Sauté bay leaf, whole red chilies and cumin seeds.
When they
start splutter, add green chili, ginger and tomato puree and cook for two
minutes.
Add fried mangodi and curd mixture and mix well.
Add one cup water and
cover it. Cook for 10 minutes.
Add garam masala and adjust the spices according
to taste.
Garnish with chopped green coriander and serve hot.
Enter your email address:
Delivered by FeedBurner