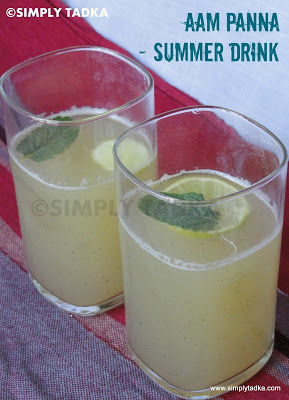 Last Updated on
Aam Panna is an Indian drink
renowned for its heat resistant properties. It is made from green mangoes and
it is used as a tasty and healthy beverage to fight against the intense Indian
summer heat. Apart from being tasty this drink also looks good due to its
refreshing light green colour. For the
upcoming summer, I prepare very tasty and heats resistant drink i.e. Aam Panna.
Green Mango is a rich source of pectin, which
gradually diminishes after the formation of the stone. Unripe mango is
sour in taste because of the presence of oxalic, citric and malic acids.
Aam panna which is prepared using raw mangoes,
sugar and an assortment of spices is an effective remedy for heat exhaustion
and heat stroke. It also quenches thirst and prevents the excessive loss
of sodium chloride and iron during summer due to excessive
sweating. You can prepare aam panna as syrup for some days for this, you have
to prepare in thick consistency. Don't add more water during cooking and adding
flavors and lemon juice. Add lemon juice and water during when you will serve. Otherwise
combine all ingredients together and serve chilled with ice-cubes and lemon
wedges.
This drink is mainly consumed in the Northern part
of the India and is considered beneficial in the treatment of gastro-intestinal disorders.
This drink is also a good source of vitamin B1 and B2 and
contains sufficient quantity of niacin, and since it is prepared from raw
mangoes it is an excellent source of vitamin C also.
Preparation
Time: 5 Minutes
Cooking
Time: 15 Minutes
Serving: 1
litre
Ingredients
3 Large Sized Green Mangoes
1 ½-2 Cup Sugar
Mint Leaves
Salt to Taste
Black Salt to Taste
1 Tbsp. Roasted Cumin Powder
Black Pepper Powder to Taste
1/2 Tsp. Lemon Juice (per glass)
For
Garnishing
Lemon wedges
Few Fresh Mint Leaves
Few Ice cubes
Pictorial
Chop and cook with sugar and mint
Blend till to smooth
Strain the pulp
Mix spices
Direction
Peel and chop the raw/green mango (roughly).
Combine sugar, mint leave, chopped raw mango and water in pressure and cook
till 4-5 whistles.
Blend this mixture till to smooth consistency
and strain the pulp in another bowl. Add black salt, salt, cumin powder, black
pepper and lemon juice and mix well. Add more water and garnish with lemon
wedges and ice-cubes.
Note: Adjust
the spices and salt according to your taste. If you want to store aam panna as
squash or syrup for a week, then avoid add lemon juice and prepare in thick
consistency. At the time of serving, add lemon juice. Add water and syrup in
3:1 ratio in separate glasses and serve chilled.
Enter your email address:
Delivered by FeedBurner