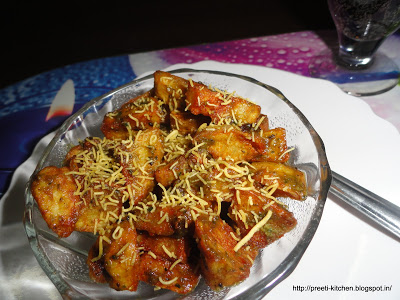 Last Updated on
Here I'm posting Aloo Chaat or
whatever you say Potatoes Chaat….it's awesome by taste…totally spicy and yumm…
too famous north Indian street food.
Ingredients
2 med. Sized Potatoes (boiled)
2 tsp. tamarind chutney (sweet
chutney)
2 tsp. green coriander chutney
½ tsp. roasted cumin powder
Salt to taste
Chaat masala
¼ tsp. red chillies powder
Sev
Vegetable oil for frying
Method
Heat
the efficient vegetable oil in deep pan. Add the boiled, peel and chop the
potatoes in dice form. Fry the potatoes square into the oil until golden and
crisp. Remove these potatoes into kitchen towel and absorb excess oil from
them.  Now mix potatoes, both chutney and
spices together and sprinkle little sev over it. Serve hot and spicy aloo
chaat.
Submit this recipe with following events:
Kid's Delight, hosted by Rujuta themed on Easy to make Snacks under 30 mins