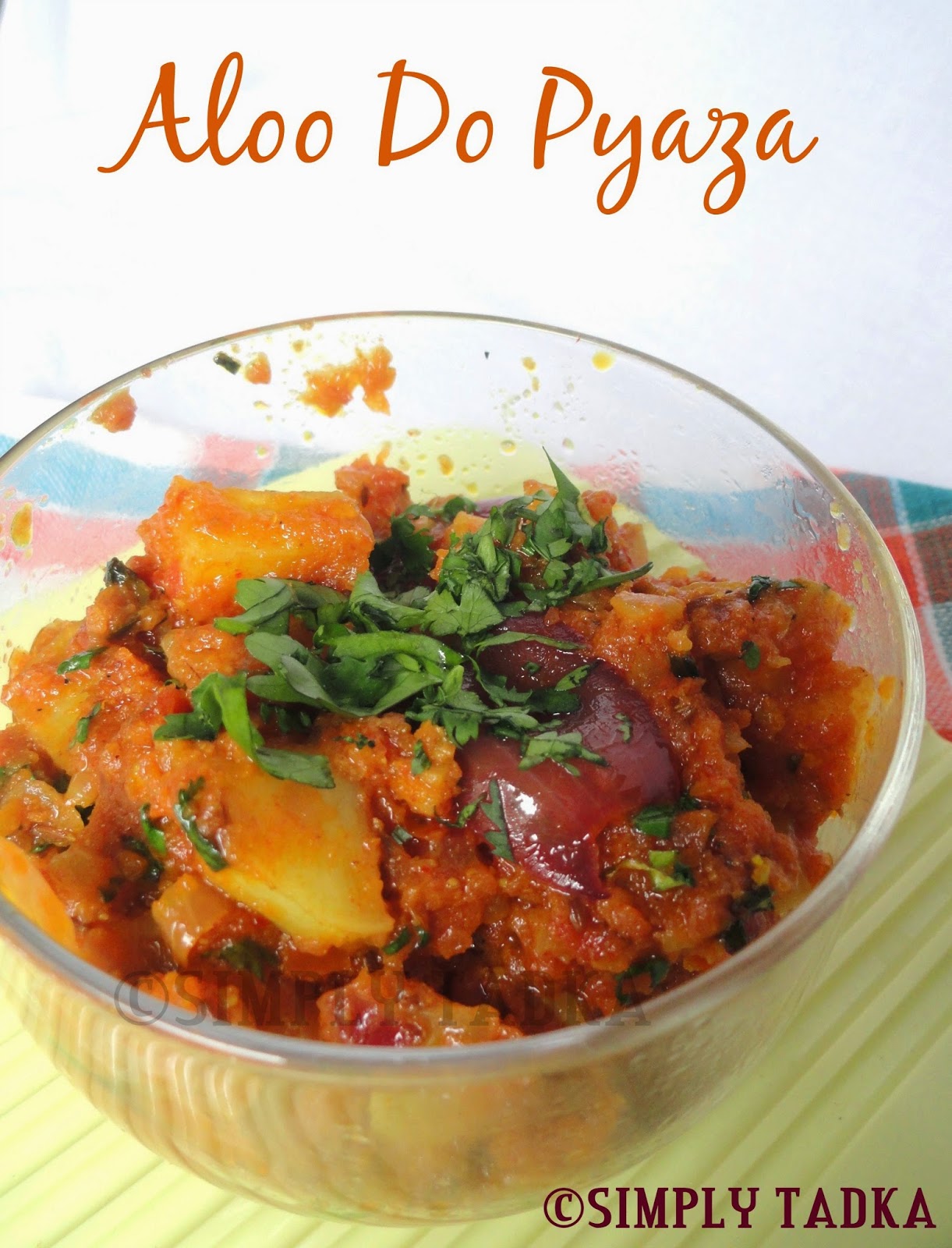 Last Updated on
I got the idea to make this recipe from
paneer do pyaza or bhindi do pyaza which makes this recipe more tempting and
served with paratha or tandoori roti.
Preparation
Time: 15 Minutes
Cooking
Time: 30 Minutes
Servings:
4
Category:
Main Course
Ingredients:
3 Medium Sized Potatoes, Cooked
2 Medium Sized Onions
3 Medium Sized Tomatoes
2 Bay Leaves
1 Tsp. Cumin Seeds
2 Green Chilies, finely chopped
1/2 Tsp. Ginger, grated
Salt to taste
1 Tsp. Coriander Powder
1/2 Tsp. Red Chili Powder
1/2 Tsp. Turmeric Powder
1/4 Tsp. Garam Masala
4 Tbsp. Oil
Green Coriander Leaves, Chopped
Instructions:
Cut the potatoes into 1 inch cubes and
deep fry them in sufficient hot oil. Drain and keep aside.
Finely chop the 1 tomato and prepare fine
paste of remaining two tomatoes.
Finely chop the 1 onion and cut remaining
onion into 4 equal parts and separate the layers.
Heat the oil in pan and shallow fry the
onion layers. Drain the fried onion layers on separate plate.
Add the cumin seeds and bay leaf into
same pan. When they start crackle, add chopped green chilies and grated ginger,
stir few seconds.
Add chopped onion and sauté until to
light brown. Add tomato paste and cook until to oil separates.
Add coriander powder, red chili powder,
turmeric powder, garam masala, salt and mix well. Cook for few minutes and add
fried onions and potato cubes and mix well.
Garnish with fresh coriander leaves and
serve hot with chapatti and curd.
Notes: You can adjust the green chili and red
chili as per your taste. To increase the richness, add some cream or curd into
gravy.
Tags:
How
to prepare alu do pyaza recipe, aloo recipes, potato recipes, main course
recpes, north indian recipes, lunch and dinner menus, lunchbox recipe,
simplytadka recipe, easy to prepare recipe, indian vegetarian recipe, alu recipes,
aloo do pyaza recipe, onion recipes, tomato recipes.
Enter your email address:
Delivered by FeedBurner