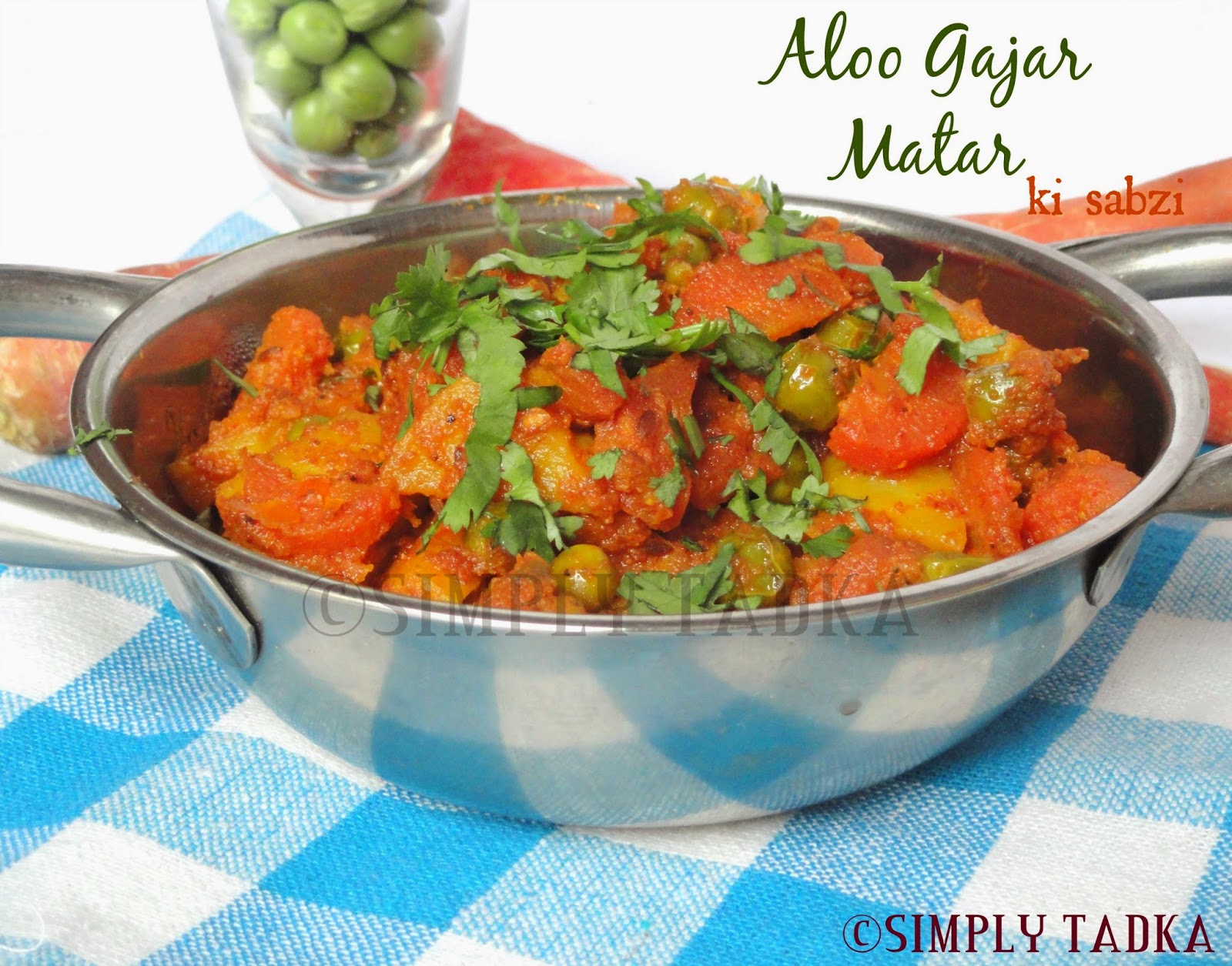 Last Updated on
Aloo Gajar Matar ki sabzi is easy and simple
recipe which made with fresh peas, carrots and potatoes in tomatoes puree and
served with raita and parathas. It's very tempting option for lunchbox recipes.
Preparation
Time: 15 Minutes
Cooking
Time: 20 Minutes
Servings:
3
Category:
Main Course
Ingredients:
2 Medium Sized Potatoes, peeled and diced
2 Carrots, Peeled and Diced
1/3 Cup Peas
2 Medium Sized Tomatoes Puree
2 Green Chili, Chopped
1 Tsp. Ginger, Grated
1 Tsp. Cumin Seeds
Pinch of Asafoetida
Salt to taste
1/2 Tsp. Red chili Powder
1 Tsp. Coriander Powder
1/2 Tsp. Turmeric Powder
1
Tsp. Raw Mango Powder
1/4 Tsp Garam Masala
2 Tbsp. Desi Ghee
Green Coriander Leaves, chopped for
garnishing
Instructions:
Peel and Chop the potatoes and carrots
and wash peas, carrots and potatoes, all together in large bowl.
Heat the ghee in wok or kadai and add
cumin seeds and asafoetida. When they starts splutter, add ginger and green
chilies, stir few seconds. Add tomato paste and stir 2 minutes.
In bowl, mix turmeric powder, red chili
powder, amchoor and coriander powder with 2 tbsp water and prepare paste.
Add this paste in kadai and cook until to
oil separates. Add carrots, potatoes,
peas, salt and 1/4 cup of water and mix well. Cover with lid and cook it for at
least 20 minutes on medium flame.
Garnish with garam masala and fresh
coriander, serve with Indian flatbread.
Notes:
You can use vegetable oil or desi ghee
whatever you prefer. Personally I prefer olive or canola oil in day to day
cooking.
For tomato paste, just grind the tomatoes
in blender or mixy until to smooth paste, you can add green chilies and ginger
also while preparing tomato paste.
Tags: How to
cook aloo gajar, gajar recipes, aloo recipes, alu recipes, potatoes
recipes, carrots recipes, daily lunch recipes, main course recipes, vegetable
recipes, Indian recipes, Punjabi recipes, north indian recipes, how to prepare
alu gajar matar recipes, simplytadka recipes, simple recipes, peas recipes,
easy vegetable recipes, lunch dinner menus.
Enter your email address:
Delivered by FeedBurner