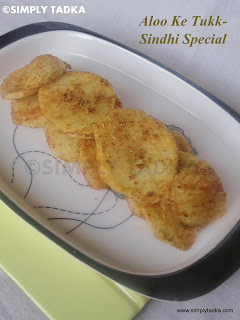 Last Updated on
Aloo ke tuk is
really spicy and tasty recipe which made by fried potatoes to again deep fry and
toss with spices. This spicy and crunchy taste, really amazing and hits your
tastebuds, always try to serve hot and crispy. These hot and crispy
aloo ke tuk can be serve as snack /appetizer or with main course as side
dish. In sindi cuisine, they are serve aloo tuk with sindhi curries, rice and
papad in Sindhi platter.
I really enjoy
this aloo ke tuk as a snack… you can prepare this recipe with in few minutes… no
need lots of ingredients. You can use baby potatoes too for this recipe,
and then no need to chop.
Cooking time: 10 minutes
Serving: 3 Persons
Ingredients
3 Large
Potatoes, Peeled
Red chili
Powder, Taste
Salt to
taste
Raw mango
powder, Taste
Chaat Masala,
Taste
1 Tbsp. Coriander
Powder
Oil for Deep
Frying
Direction
Peel and cut
the potatoes in round form (½ Inch approx.). Deep fry them till to golden. Squeeze
them between your palms with pressure and again fry for few minutes till to
golden. Combine all spices and potatoes in large bowl. Toss well and adjust the
spices as per your taste. Aloo ke tuk is ready to serve with meal.
Enter your email address:
Delivered by FeedBurner