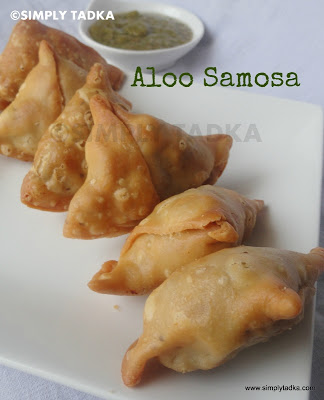 Last Updated on
In our area,
one of the very famous sweets shop is R.K Sweets in Sonepat, Haryana.
R.K's
Samosas are very crispy and tasty with its amazing chutney. Generally people
are waiting for more than one or two hours for this tempting samosas. I tried these tempting samosas at home.
For this samosa recipe, you have to prepare crust and filling with potatoes and peas…. These
samosas are very popular or in demand because of special chutney which prepare with green
mango, tamarind pulp and onion with spices. Hope you will also enjoy these wonderful
samosas at home with tea in evening time. I have no clue or any kind of r.k samosa's recipe but I tried these samosa only and only on the basis of taste.
Á Preparation Time: 30 Minutes
 Cooking Time: 20 Minutes
ä Servings: 8 Pieces
Ingredients:
For Crust
1 Cup All-purpose
flour/ Maida
1/2 Tsp. Carom
Seeds/ Ajwain
Salt to Taste
1 Tbsp. Oil
For Filling
2 Large Potatoes,
Peeled and Boiled
1/2 Cup Peas,
Boiled
2 Tsp. Pomegranate
Seeds/ Anardana
Salt to
Taste
1/2 Tsp. Black
Pepper Powder
1 1/2 Tsp. Coriander
Powder
1/2 Tsp. Garam
Masala
Red Chili
Powder to Taste
Oil for Deep Frying, Other Ingredients
For Chutney/ Dip
1 Medium
Sized Green Mango, Peeled and Chopped
1 Small Onion,
Chopped
1 Green
Chili, Chopped
Handful Green
Coriander, Chopped
1/2 Tsp. Roasted
Cumin Powder
1/2 Tsp. Roasted
Pomegranate Seeds
1 Tsp. Coriander
Powder
Salt to
taste
1/2 Tsp. Black
Pepper Powder
1/2 Tsp. Chat
Masala
2 Tbsp. Tamarind
Pulp
Pictorial
Direction:
For Crust
Mix all ingredients together in one
large bowl and combine with fingertips as crumbs. Now add enough water to knead
stiff dough for Samosa. If the dough is too sticky to fingers then add some
more flour. Gather dough in a ball and wrap with clean damp muslin clothe for
15-20 minutes and it's keeps away from drying.
For Filling
Combine boil,
peel and mashed potatoes, boiled peas and spices together in one bowl and mix
gently.
For Preparation
Divide the dough into equal four-five
portions and roll a ball out into round shape using rolling pin. Cut it into
half equal with a knife. This will make 2 half-moon shaped wraps. Pick one and
form a cone and seal the edges with the help of water properly as in picture
shown. Fill the cone with 2 tbsp. stuffing and seal again with water. Do same
method with rest of stuffing and dough.
Heat the oil in wok on high flame, when
oil is hot enough. Add samosas into small batches and fry continuous on low
flame, for more crispiness and completed cooked till to golden color.
Note: Never fry samosas on high flame.
For Chutney/ Dip
Combine all
ingredients together and blend it till to smooth consistency dip, add little
water, if needed. Serve hot samosas with kari pyaz chutney.
Enter your email address:
Delivered by FeedBurner