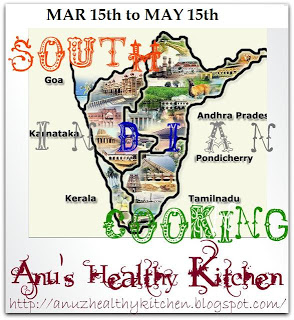 Last Updated on
Hello Foodies
Here I'm again with lovely event "South Indian Cooking"
event run by Anu's Healthy Kitchen and get the chance to host for March 15th to
May 15th, 2013. This event is to explore the South Indian Cuisines
around the India. Please mention something about regional cuisine in recipe
introduction section which helps to reader to know more about South Indian
cuisine.
Rules for the event:
Event starts from 15 March, 2013 to 15 May, 2013.
Only vegetarian recipes are allowed.
Only two archives are allowed. Multiple entries are
accepted.
Use of logo and announcement link both are mandatory in
post. South Indian Cooking Event hosted by Simply Tadka and Announced by Anu's Healthy Kitchen.
Non-blogger can participate with recipe name, recipe
details, pictures and personal intro and send it on simplytadka@gmail.com with subject of
"South Indian Cooking Event @ Simply Tadka".
Enter your email address:
Delivered by FeedBurner