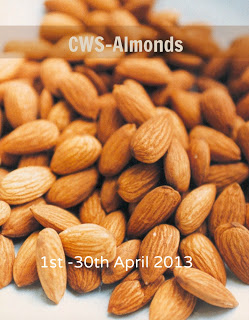 Last Updated on
Hi
Friends…
Currently two events
are already going on my blog, so here one more is "Cooking with Seeds" event
announced by Priya from Priya's Versatile Recipes. Here I get first chance to
host this lovely event on my blog. So for this event I choose almonds or badam
as a main ingredient in recipes. You can post any course of meal but sure it
will be main ingredient as almond milk, almond based gravy, badam halwa and
more. Almond nuts are rich in dietary fibre,
vitamins, and minerals and packed with numerous health promoting
phyto-chemicals; the kind of well-balanced food ensuring protection against
diseases and cancers. So now I'm waiting for lovely recipes from all you… keep cooking
and sharing with us.
The
event rules are as follows-
The event runs for the period of April
Month.
This month's seed is Almonds. It can vary from starter, main dish, side dish, soup,
dessert or any other recipes, sweet or savory anything.
Bloggers and Non bloggers can participate. Bloggers can link their recipes
using the linky tool. Bloggers who find it difficult or find some problem to
link can also send & Non-bloggers can send in their recipes to my email "simplytadka@gmail.com" with the following details-
Your Name-
Blogger Name-
Recipe Name-
Recipe Details-
Pic of the Dish-
Recipe must be linked to Cooking with seeds event hosted by Simply Tadka and announced
by Priya.
You can link Veg & Vegan recipes both.
Follow simply tadka via GFC and on Facebook.
Send in any number of entries. You can link in archived posts.
Usage
of logo is appreciated for all entries as it would help spread the word.
Enjoy every meal with lots of love….
Enter your email address:
Delivered by FeedBurner