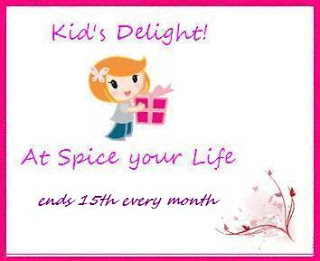 Last Updated on
Cooking for kids is really challenging
task for every homemaker because they did not predict taste and preferences of
kids easily. We all know preparing food for adults is very easy but kids are very choosy for food and also ingredients. Kids love street or junk
food like golgappe, chaat, bhelpuri, pav bhaji, chole bahture, ice-cream any
kinds of course spicy, sweet, tangy with lots of flavors and
colors attracts them easily. Moms are always preferred
to prepare homemade food for kids from the hygiene point of view which become more
healthy and tasty compare to regular road side.
Kid's delight, is really
wonderful event which runs by Srivalli, a great food blog personality. So this
is my first chance when I announced this lovely event on my blog "Simply Tadka"
through get the chance to explore different street food flavors especially for
kids.
For kid's delight, theme is "Street
Food". I'm big foodie for street or road side food especially flavored golgappas,
aloo tikki, noodles and Ice-cream bar and more. There
is no strict rules, very simple event with simple theme, just check 3-4 rules and link your wonderful roadside or
street food with this event.
Rules for the events:
Event started from 16 March
to 15 April 2013.
Only Vegetarian recipes are
allowed and multiple entries are accepted.
Recipes submitted to other
events are also permitted.
Only fresh entries are
allowed, archives can be accepted only if updated as current posts.
Link back to Kid's Delight Event Hosted by Simply Tadka and announcement by Srivalli.
Enter your email address:
Delivered by FeedBurner