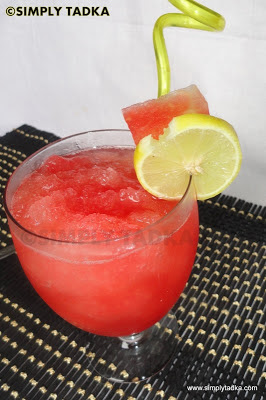 Last Updated on
After a couple of days, today I post "Apple
and Watermelon Slush". It's a very chilled drink which is very good for summer
days and gives freshness. It's a very easy to prepare within few minutes. For
this first you have to prepare thick watermelon juice and combine watermelon
juice, apple juice with salt and sugar and lots of ice which gives slushy look.
I used appy fizz instead of apple juice which gives little bubbly taste in
drink. You can adjust the sugar as per taste or depend on sweetness of
watermelon.
Preparation
Time: 15 minutes
Cooking
Time: 0 Minutes
Servings: 6
Glasses
Ingredients
2 Cup Watermelon, seedless
2 Glass Apple Juice (Appy Fizz)
1 Lemon Juice
1/2 Tsp. Salt
1/2 Cup Sugar (adjust according to taste)
2 Cup Ice-cubes
Direction
Clean and chop the watermelon into chunks and
remove the seeds properly. Now blend the
watermelon into blender till to smooth consistency and strain it roughly in thick form as puree.
Blend watermelon juice, apple juice, lemon juice, salt and sugar with lots of ice-cubes together till to smooth slush
form. Serve chilled in individual glasses with lemon wedges.
Enter your email address:
Delivered by FeedBurner