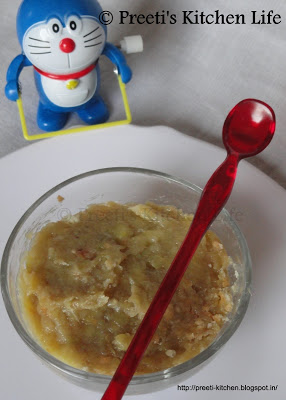 Last Updated on
On the last day of 3rd week of BM, I post "Apple Banana
Pudding" for lovely toddlers. This recipe is taken from Tarla Dalal sources
which mostly prepared by my sister in law for my nephew. It's really very
healthy and easy to prepare within few minutes and also a great option for kids
to serve different recipe instead of regular food. You can use any fruit
instead of apple and banana but…..
In apple and banana, lots of vitamins and other nutrition value…
because we all know "An apple a day keeps the doctor away".
Preparation time: 5-
10 Minutes
Cooking time: less
than 15 minutes
Servings: 1 Cup
Ingredients:
1 Red Apple (Small Sized), peel and chop
1 Ripe Banana (Small Sized), Peel and chop
1 Tbsp. Sugar
1 Tbsp. Clarifying Butter
2 Biscuits (crushed)
Direction
Heat ghee in pan and add chopped banana and apple and saute till to
soft.
Now add sugar and mix well. Now add crushed biscuits into mixture
and mix well.
Cook for 2-3 minutes on low flame. Serve lukewarm in funky bowl.
Submit this recipe
with following events:
Blogging Marathon page for the other Blogging Marathoners doing BM#24
Enter your email address:
Delivered by FeedBurner