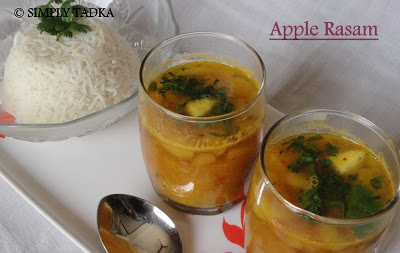 Last Updated on
Rasam or Saaru (Tamil: ரசம், Rasam, Malayalam: രസം), Kannada :ಸಾರು (Saaru), is a South Indian soup, traditionally prepared using tamarind juice as a base, with the
addition of tomato, and chili pepper, pepper, cumin and other spices as seasonings.
Steamed lentils are added along with any preferred
vegetables. Now days all the
seasonings required are combined and ground before hand into a rasam powder, which is available commercially.
Rasam is a liquid curry which prepared with mushy lentil and lots of
spices, it's a very popular part of meal in south family which serve with rice
or as a hot bowl of soup which is very good for digestion, as south tradition
look like a liquid transparent spicy soup. But under the Apple Rasam, we
combine apple with mushy lentil, tomato plus spices and serve with steam
rice.
This recipe is taken from "My Cooking Journey" blog; I love the version
of apple in this rasam recipe. It is eaten with rice or separately as soup. In a
traditional meal, it is preceded by a sambar rice course and is followed by curd rice. Rasam has a distinct taste
in comparison to the sambar due to its own seasoning ingredients and is usually
fluid in consistency.
Preparation time: 15 Minutes
Cooking time: 20-30 Minutes
Serving: 4 Cup
Ingredients
1 Apple, peeled, seedless and chopped
1/4 Cup Yellow pigeon peas/Arhar dal/ Tuvar dal
2 Tomatoes, chopped
1/4 Cup Green Coriander, chopped
1 Green chili, chopped
1 Tsp. Black peppers
1 Tsp. Cumin seeds
1/4 Tsp. Turmeric Powder
A pinch of Asafoetida/ Hing
Salt to taste
1 Tbsp. Clarifying butter
For tempering
1/2 Tsp. Mustard seeds
1/4 Tsp. Cumin seeds
1 Tbsp. Clarifying butter
Direction:
Clean and wash the pigeon pea and boil in pressure cooker with turmeric
powder and 1 cup of water till to mashy completely.
Now blend the tomatoes, green chili, cumin seeds, black pepper and 3/4 chopped apple into blender till to smooth consistency paste.
Heat the pan on medium flame and add clarifying butter/ ghee. Add remaining
finely chopped apple and cook till to soft.
Add tomatoes mixture, asafoetida and salt and mix well. Cook for
5-10 minutes. In between, add mashy
cooked dal with 2 cup of water in it. Let it come to a boil and turn off the
flame.
Heat the ghee in pan and when ghee is hot enough, add mustard seeds
and cumin seeds till to splutter. Add it to the rasam, and garnish with fresh
chopped coriander with rice or as a hot soup.
Submit this recipe with
following events:
Blogging Marathon page for the other Blogging Marathoners doing BM#25
Dish in 30 Minutes Event & Giveaway hosted by Sara's Kitchen
Enter your email address:
Delivered by FeedBurner