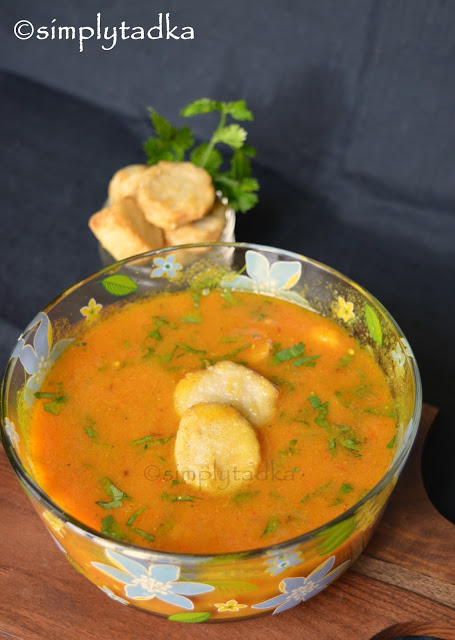 Last Updated on
Arbi Masala gravy is just similar to any other masala gravy
recipe like aloo matar, matar paneer and more. You can use the cornflour only
for this recipe. To enhance the taste of gravy, you can add whipped curd after onion
tomato paste. You can use aloo, mooli, jimmikand and more vegetable to cook
same recipe instead of arbi.
Arbi Masala Gravy | How
to prepare Arbi Masala Gravy
Preparation
Time: 15 Minutes
Cooking
Time: 20 Minutes
Servings:
4
Category:
Main course/ Gravies
Cuisine:
North Indian
Ingredients:
250gm. Taro Roots/ Arbi
1 Tbsp. Gram Flour/ Besan
1 Tbsp. Cornflour
1/2 Tsp. Salt
Oil for frying
For
Gravy
1 Medium Sized Onion, chopped
2 Medium Sized Tomatoes, chopped
2 Green Chilies, chopped
1 Tsp. Ginger, chopped
1 Tbsp. Vegetable oil/ Ghee
1 Tsp. Cumin Seeds
1 Tsp. Coriander Powder
1 Tsp. Turmeric Powder
Salt to Taste
1 Tsp. Red Chilies Powder
1/2 Tsp. Garam Masala/ Five Spices Powder
Instruction:
Wash and boil the taro root till to
little tender or soft.
Now peel and cut into slices. Sprinkle the
flour and salt on slices and rub it.
Heat the sufficient oil in pan and fry it
till to golden and crisp.
Grind the tomato, onion, green chilies, and
ginger together in mixer.
Heat the oil in separate wok and add
cumin seeds.
When they start splutters, add tomato onion
ground paste and spices.
Cook till to tomatoes leaves oil, add
water to adjust the consistency.
Add fried slices and boil it for 5
minutes.
Garnish with coriander leaves and serve
hot.
Tags: arbi, taro roots, main course, gravies, simplytadka,
simple recipes, indian recipes, arbi recipes, arbi ka salan, arbi masala, arbi
gravy, tadka.
Enter your email address:
Delivered by FeedBurner