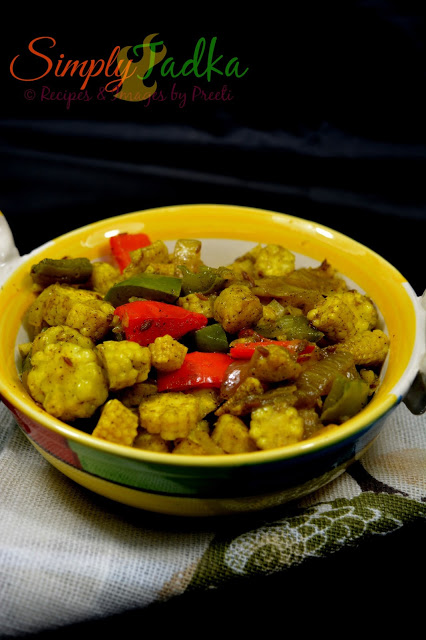 Last Updated on
Baby Corn
stir fry recipe is very simple and easy recipe which made with baby corn and bell
peppers. You can try this recipe with other veggies like mushroom, gobi or
zucchini.
Stir fries
are one category which you will enjoy making as well as eating also. The flavors and aromas that arise during
cooked the ingredients are awesome.
Baby Corn Stir Fry | Stir Fry
Baby Corn Recipe | Stir Fried Recipes
Preparation Time: 10 Minutes
Cooking Time: 15 Minutes
Servings: 4
Category: Side Dish
Cuisine: South Indian Cuisine
Cooking Method: Stir Fry
Ingredients:
2 Cup Baby Corn,
Wash and Diced
1/2 Cup Onion,
Diced
1 Cup Bell
Pepper (Red and Green), Diced
2 Green
Chilies, Finely Chopped
1 Tsp. Ginger,
Grated
1 Tsp. Cumin
Seeds
Salt to Taste
Black Pepper
to Taste
1/2 Tsp. Five
Spice Powder or Garam Masala
1 Tbsp. Olive
Oil
Instructions:
Heat the
olive oil in a non-stick pan. Add cumin seeds, when they start splutter.
Add green
chilies, ginger paste and sauté for 1 minute.
Add onion,
bell pepper and spices, sauté for 5 minutes. Then add chopped baby corn.
Sprinkle
little water and give a quick mix.
Cover it and cook for next 5-7 mintues or
till to tender.
Serve hot
baby corn stir fry with rice or roti.
Notes: Check the dish in between cooking and gently stir once or twice,
to avoid burning at the bottom.
Tags: How to cook baby corn, baby corn recipes, side dishes, stir fry
recipes, blogging marathon, simply tadka, quick and simple recipes, bell
pepper recipes, onion recipes, baby corn stir fry recipe, dry recipes,
Check out the Blogging Marathon page for the other Blogging Marathoners doing this BM#74