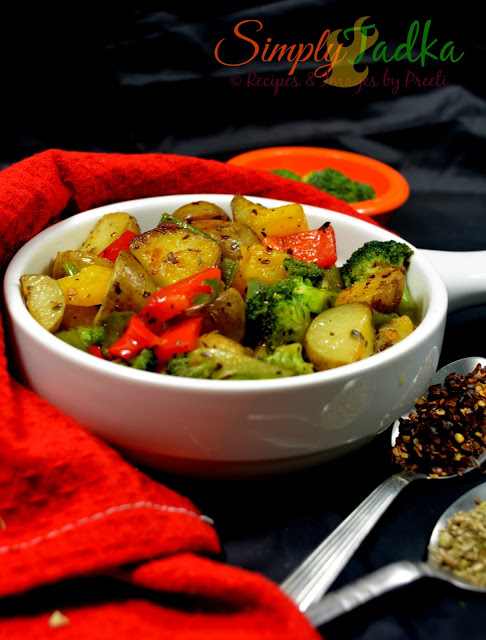 Last Updated on
Baby
Potato and Broccoli stir fry recipe is very quick and comforting dish which you
can serve with chapatti or rice as a side dish. Even you can serve this as snack
also because you get all flavors in one bowl.
I love the crunchy taste of baby
potatoes with taste of lemon juice. The bell peppers and broccoli both add the
colors and flavor to stir fry recipes.
Baby Potato and Broccoli Stir Fry
| Stir Fry Recipes | Baby Potato Recipe
Preparation Time: 20 Minutes
Cooking Time: 15 Minutes
Servings: 4
Category: Main Course
Cuisine: North Indian
Cooking Method: Stir-Fry
Ingredients:
2
Cup Baby Potatoes, Boiled and Halves
1
Cup Broccoli, Florets
1/2
Cup Bell Pepper (Red, Green, Yellow), Diced
Salt
to Taste
Black
Pepper to Taste
1
Tsp. Chili Flakes to Taste
1
Tsp. Oregano
4
Tbsp. Olive Oil
1
Tsp. Lemon Juice
Instructions:
Boil
the baby potatoes and cut into halves.
Heat
the oil in a broad pan and cook potatoes for 5 minutes or until to golden.
Remove
the potatoes in separate plate and keep aside.
Add
the broccoli, bell pepper, oregano, salt, pepper powder and chili flakes in
same pan and sauté for 5 minutes on medium flame or till to tender.
Add
cooked potatoes and toss gently, cook few seconds more on medium flame.
Add
lemon juice and give a quick stir.
Serve
immediately with chappati.
Tags:
how to cook baby potato stir fry, stir fried recipes, simplytadka, quick
recipes, blogging marathon, potato recipes, broccoli recipes, bell pepper
recipes, easy stir fry recipes, side dish, main course, baby potato stir fry
recipe.

Check out the Blogging Marathon page for the other Blogging Marathoners doing this BM#74
Enter your email address:
Delivered by FeedBurner