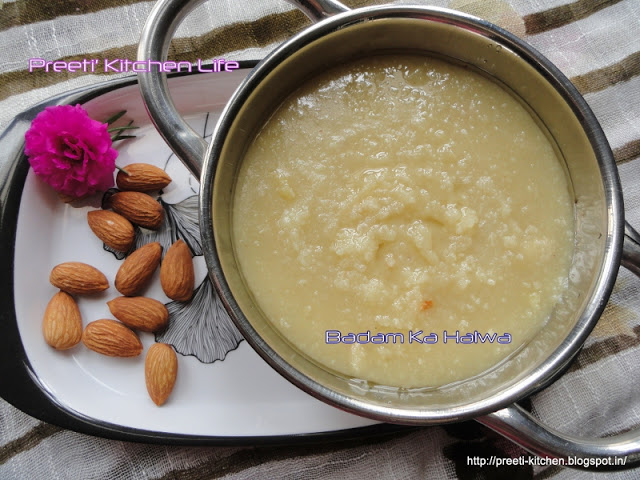 Last Updated on
Today I post "Badam Ka Halwa"
in the Blogging Marathon 20, under Ganesh Jayanti special. This festival is celebrated
in whole but especially more attraction in Maharashtra regional. Under this
recipe, we used blanched almond paste which cooked in ghee and milk for preparing
Halwa form. Its taste is really amazing and you can made almond fudge or badam
barfi also with same thick consistency cooked almonds mixture, for fudge just
grease the plate and spread equally on plate. Cut it into diamond or square shape.
Almonds are the king of nuts which is great source of calcium, 26%
carbohydrates, Vitamin E and they are also rich of minerals and dietary fiber.
Potential health benefits, which have not been scientifically validated,
include improved complexion and possibly a lower risk of cancer. Preliminary
research associates consumption of almonds with elevating blood levels of high
density lipoproteins and lowering low density lipoproteins.
Preparation Time: 20 minutes
Cooking Time: 30 minutes
Serving: 3 Cup approx.
Ingredients:
1 Cup Blanched Almonds, Peeled
2 Cup Milk
1/2 Cup Sugar
1/4 Cup Ghee
1 Tsp. Cardamom Powder
Directions:
How to Blanch the
Almonds
Add the 1 cup almonds in fully boiling water just
for 5 minutes, then pour this water on almonds and drain out. Peel the almonds
one by one by using just thumb.
Combine blanch almonds and 1 cup Milk in mixer and
make a smooth fine paste. Now heat the ghee in non-stick pan and add almond
paste in it. Stir continuously on medium flame. After 10-15 minutes add
remaining milk in it and stir continuously.
Cook till to little color change.
Add sugar and cardamom powder, it's up to your taste. Cook 10 minutes more and
add more ghee if required. Serve hot Badam Halwa on special occasion or in
festival days.
Pictorial
Blanch Almond with Milk
Smooth Almond paste
Cook Almond paste in ghee
Badam Ka Halwa
Blogging Marathon page for the other Blogging Marathoners doing BM#20