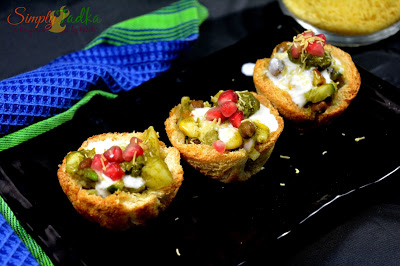 Last Updated on
Baked Bread Katori
Chaat is very easy and tasty snack which you can serve in front of your guest
anytime. It is very interesting recipe in which some stuffs mix with chutneys
and yogurts like chaat and served in baked bread cups like katori. Even you can
use anything for filling like beans, sprouts, legumes, boiled chickpeas, boiled
potatoes, cucumber, boondi, rice puffs, onion, tomatoes and many items whatever
you prefer.
Check here more
chaat recipes
Baked Bread Katori Chaat
Preparation Time: 20 Minutes
Cooking Time: 15 Minutes
Servings: 4
Category: Street Food
Cuisine: Indian
Cooking Method: Bake
Ingredients
10 Bread Slices
1/2 Cup Boiled
Potatoes, Chopped
1/2 Cup Sprouts
1/4 Cup Boiled
Corn
1/2 Cup Boiled
Black Chickpeas
1/4 Cup Cucumber,
Finely Chopped
1/4 Cup Onion,
Finely Chopped
1/4 Cup Tomatoes,
Finely Chopped
2 Green Chilies,
Finely Chopped
2 Tbsps. Green Coriander
Leaves, Finely Chopped
Black Salt to
Taste
Chaat Masala to
Taste
Pepper Powder to
Taste
3 Tbsps. Coriander Chutney
3 Tbsps. Imli
Chutney
1/2 Cup Yogurt
Sev, for Topping
Pomegranate Seeds,
for Topping
1 Tsp. Sugar
Instructions
Preheat the oven
at 200°c. Take bread slices and cut them into round shape by using cookie
cutter.
Grease the muffin
tray with butter or oil, place the bread slices carefully. Bake them for 10
minutes. Take out the muffin pan and keep aside to cool.
Now take deep
bowl, boiled potatoes, boiled chickpeas, boiled corns, sprouts, cucumber,
tomatoes, onions, chaat masala, coriander chutney and imli chutney, chaat
masala, black salt and mix it and keep aside.
Take yogurt, add
salt and sugar and mix it. Keep aside.
Fill the katori
with chana aloo mixture, topped with yogurt, chutney, chaat masala, sev. Serve
immediately.
Notes: You can use whole wheat bread
also.
You can use any
stuffing like beans, sprouts, legumes.
Tags: how to make baked katori chaat,
sprouts chaat, chaat recipe, street food, Indian chaat recipe, healthy chaat
recipe, simplytadka, blogging marathon, sprouts recipe, chickpeas recipe, Indian
chutney, yogurt, bread, baked, baked bread chaat, protein recipe, medium level
recipe, vegetarian, baked bread katori chaat recipe.
Did you make this recipe?
If yes, do let us
know how it turned out in the comments below.
Do share a picture
with us simplytadka@gmail.com or share on Instagram with hashtag
#simplytadkarecipes and tag us @simplytadka
Check out the Blogging Marathon page for the other Blogging Marathoners doing BM# 80