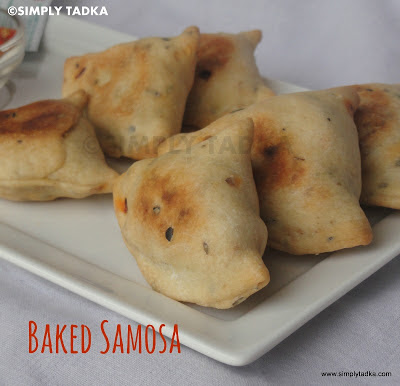 Last Updated on
Today I'm very happy because I tried baking first time in oven…. I know you all are shocked but yes it's my first chance when I did baking in my new Morphy Richards OTG. I had done my baking stuff always in pressure cooker. Thanks to my lovely co-blogger friends who give me lots of important tips regarding how to operate and bake?
This time I choose Samosas theme with different and interesting filling. As we know it's a very popular tea time snack, so for the first day I prepare "Baked Samosas" with flavored crust and colorful and tempting filling.
Generally we add carom seeds in crust but in this samosa recipe, we were adding oregano, chili flakes, and curd as interesting flavors with flour.
For filling, I use red bell pepper, green peas and yellow corn with seasoning which gives color texture. Because of baking technique, it's become oil free and healthy Samosas. You can serve baked samosa with tomato ketchup or green chutney.
Â
Preparation Time: 30 Minutes
Á
Cooking Time: 20-25 Minutes
J
Servings: 6 Pieces
Ingredients
For Crust
1 Cup All-purpose Flour
1/4 Tsp. Baking Soda
1 Tbsp. Curd
1/2 Tsp. Oregano
1/2 Tsp. Red Chili Flakes
1/4 Tsp. Salt
1 Tbsp. Oil
Water, For Kneading
For Stuffing
1/2 Cup Red Bell Pepper
1/2 Cup Frozen Peas
1/2 Cup Frozen Corn Kennel
2 Green Chilies
1 Tbsp. Oil
Salt to Taste
1/2 Tsp. Black Pepper Powder
1 Tsp. Coriander Powder
1 Tsp. Lemon Juice
Oil for
Greasing
Pictorial
Combine Oregano, Maida, Chili Flakes, Salt, oil and baking soda
Dough for Crust
Stuffing
Round form
Half moon Become cone
Fill the stuffing in cone
Close the edges tightly with water
Direction
For Crust
Mix all ingredients together in one large
bowl and combine with fingertips as crumbs. Now add enough water to knead stiff
dough for Samosa. If the dough is too sticky to fingers then add some more
flour. Gather dough in a ball and wrap with clean damp muslin clothe for 15-20
minutes and it's keeps away from drying.
For Stuffing
Boil frozen peas and corn together in
microwave for 5 minutes. Drain the water and keep aside to cool. Heat the oil
in pan and add fine chopped green chili, red bell pepper, corns and peas together.
Cook for 2 minutes and add salt, coriander powder, black pepper and lemon
juice. Stir for last two minutes and keep aside this samosa filling to cool.
For Preparation
Divide the dough into equal three portions
and roll a ball out into round shape using rolling pin. Cut it into half equal
with a knife. This will make 2 half-moon shaped wraps. Pick one and form a cone
and seal the edges with the help of water properly as in picture shown. Fill the
cone with 2 tbsp. stuffing and seal again with water. Do same method with rest
of stuffing and dough.
Preheat the oven for 15 minutes on 225 degree
Celsius. Lightly brush oil on the top of the samosas with brush. Place the
baking tray in the centre position in the oven and bake at 225degree Cel. For 12-15
minutes. When done remove the tray and serve hot flavoured samosas with sauces
and tea.
Enter your email address:
Delivered by FeedBurner