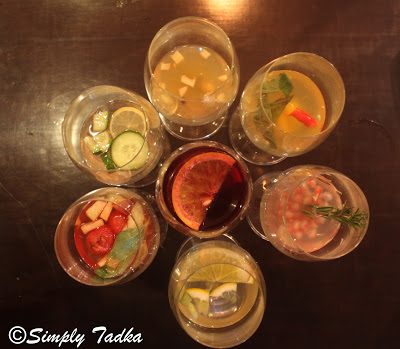 Last Updated on
After huge success in introducing
Black and Red color Burgers, Barcelos is back with another concept for those
who love drinks and healthy appetizers. To thrill
its customers, this time Barcelos is introducing India's first Sangria Bar. With
the launch of multi variety Sangria, Barcelos is celebrating 'Salads &
Sangria' festival.
For
the first time in world, Barcelos is going to introduce maximum 21 varieties of
Sangria at its Khan Market located restaurant. Luckily I got an invite from Barcelos
to taste the classic sangrias and salad.
Sangria is a typical beverage from Spain and Portugal. It normally consists of wine, chopped fruit, a
sweetener, and a small amount of added brandy. Chopped fruit can include orange, lemon, lime, apple,
peach, melon, berries, pineapple, grape, kiwifruit and mango. A sweetener such
as honey, sugar, syrup, or orange juice is added. Instead of brandy, other
liquids such as Seltzer, Sprite or 7
Up may be added. Sangria is steeped while chilled for as little as minutes or up to a few
days.At Barcelos,
Sangrias made with fresh chopped fruits and white and red wines.
First time I tried alcoholic Sangrias at Barcelos
which include White Lemongrass Sangria,
Watermelon & Apple Sangria, Mango & Chili Sangria with Basil, Peach
Sangria, Ginger & Clove Sangria, Pomegranate & Rosemary Sangria, and Cucumber Sangria.
Love the flavors and smell of wine,
personally I fall in love with Cucumber and Lemon Sangria with white wine and
secondly Watermelon and Apple Sangria. They used high quality of wine for
sangria were accompanied with healthy salads. The sangrias are available for
Rs. 255 per glass.
I tried Capris
Salad which made with fresh green and red lettuce, caramelized roasted nuts
(almonds and walnuts), grilled tomatoes and zucchini with pesto sauce and sweet
onion dip… love the taste of onion dip and nice texture…..so creamy. The portions
were good and love the whole platter…. very impressive.
The other salads which are available at
Barcelos, Pear & Chicken Salad
with Peri Peri Dip, Fattoush Salad
and Grilled Orange & Watermelon Salad
which made with orange, pears, watermelon, melon seeds and roasted nuts. Love the
combination of Sangrias and healthy salads…. love the colors and flavors…. fresh
and aromatic.
For this festival, Barcelos is offering combo
of one salad and one sangria priced at Rs 375.
About Barcelos: With
a single operation founded in Pretoria, South Africa in 1993, Barcelos has
grown exponentially which led it to start franchising in 1998. It has been
expanding continuously and became a household name the world over ever since.
Barcelos enjoys its presence in 17 countries with 120 outlets. To ensure continuity and excellence
throughout the brand the founders of the brand, namely Costa Maziz, johan van
Eyk and Beverley Vaskys, are all still actively involved in the operations of
the company. Company has a service office in London with its group offices in
Centurion, South Africa as well as national distribution centers in Cape Town,
Durban, and Johannesburg and in Gaborone, Botswana. The company currently
employs in excess of 2000 staff and instills ongoing high standards and
expectations from all staff at head office and stores alike.
So if you want to taste something unique and
interesting flavors of Sangrias ad salads, Barcelos is right place to enjoy
with friends and families.
Tags: barcelos, khan market, delhi restaurants,
sangrias, salads, healthy salads, south african cuisine, wine, red burger, review,
restaurant review, sangrias festivals
Enter your email address:
Delivered by FeedBurner