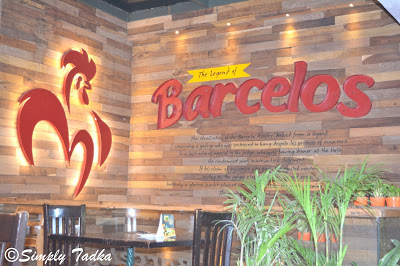 Last Updated on
This is my second visit to Barcelos, Khan Market and I was invited for a
tasting session of White Burger. After trying Salad and Sangria, it was time
for the white burger. Regularly brown burger is available in market, but they come
in black, red, white color burgers without any artificial colors and
preservatives.
Barcelos
served completely authentic Afro- Portuguese cuisine in Delhi. Rohit
Malhotra, GM Operations, Barcelos Said, "Barcelos had not used any artificial
color and preservatives to darken the bun but the herbs, natural and organic
ingredients used in it to make colorful and healthy buns".
Now Barcelos
introduces White Burger for foodies. Always give preference to customer's taste
and healthy meal. If you're wondering, that the black, red and
white burgers only differ in their color, you're wrong. The taste is very
different as the black burger is made with spinach extract, roasted wheat and
herb to the dough, the white with coconut, plain flour and milk powder, the red
with tomato powder, chili flakes and beetroot. I wanted to try all the flavors.
White
burger is made with milk powder, coconut powder to the dough in a baked bun on
low temperature for longer time to achieve the color and flavors. The white
burgers are available for both vegetarian and non-vegetarian lovers for Rs.175
and Rs.215. This
slightly sweet bread provides the fresh bun for the delicious burger. The
patties inside are innovative too.
The non-vegetarian one consists
on a slab of grilled chicken. But I tried vegetarian one that I love most. It's
not a deep fried regular one, its pan fried patty. So instead of crispy, the
patty is soft which made with ricotta cheese, capsicum and slice of orange,
completely healthy meal compare to regular junk food. It had a unique and
amazing taste from the other burgers I have tried. Even you can choose the
level of spice variants in your peri peri sauce like supa peri, veri peri,mild
peri and tangy lemon.
Barcelos also introduce a platter
of mini burgers with all four variants (white, black, red and brown) in one
order… full on with flavors and colors.
Great staff,
awesome service and decent muic and nice ambience, gives happiness.
Waiting for more
offering in coming months, Keep up the good work!!
Enter your email address:
Delivered by FeedBurner