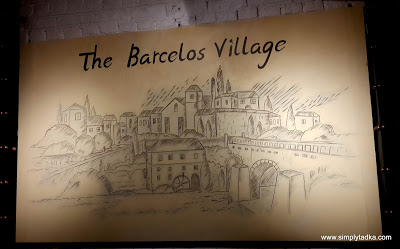 Last Updated on
After a big heep in Khan Market, Barcelos is
ready with second opening in Hauz Khas village for foodies. It's really amazing
with interior specially outdoor and indoor decor, wall painting and perfect
seating area which attract us. You can spend great time with friends and
families and enjoy your meal. This time i tried tangy mango and hey rosy in
drink, white burger, veg sizzler and falafal with pita bread and more appetizers
and end with perfect slice of chocolate cake with scoop of vanilla ice-cream.
This place is perfect for your dine with perfect service, awesome ambiance with
great music and interior.
Barcelos is famous for its flame grilled Peri Peri menu and has
created its own unique following by introducing to the discerning Indian foodie
their own brand of innovation. Barcelos revolutionized the concept of the
'burger' in India by presenting it in different colors! That apart, they have
created a niche for themselves with their innovative salads, beverages like
Molecular drinks, boozy shakes and by introducing India's first Sangria Bar.
Barcelos is a town in Portugal hence the
theme of Portugal is reflected through the interiors and designs of the
restaurant. Barcelos keep its focus on the modern and antique art for the
interior. Stretched in the area of 3600 sq ft, Hauz Khas Village outlet has raw
and rustic interiors. Each wall of the restaurant depicts the story of Portugal
which is very unique and attractive. The famous personalities and the different
shades of Portugal have been painted on the walls. Also the 3D painting of real
streets of Portugal on the wall is quite fascinating which creates an authentic ambiance of a Portugal town inside the restaurant.
Some plus points of Barcelos @ Hauz Khas:
·
African and Portuguese Cuisine Available
·
Separate
Smoking Zone
·
Free Wifi
Facility
·
Outdoor and
Indoor perfect seating arrangement
·
Vegetarian and
Non vegetarian food.
Mr. Costa Mazzis,
Chairman, Barcelos: "We are grateful to all
the love and acceptance which we have got from our first restaurant in India
and hence we believe that our new restaurant will also be very well accepted
here. We are happy that with a combination of superior service from South
Africa with the blend of peri peri flavor, we have been successful to bring a
world-class casual dining experience to the Indian customer."
Mr. Rohit
Malhotra, Business Head, Barcelos India:
"We are very delighted to announce the launch of our
new restaurant here. With a motive of making our brand more accessible to our
consumers in Delhi, NCR, this time we have decided to come up in Hauz Khaz
Village which is quite happening and the most preferable hangout place amongst
youth here. Since our first store, we spent time in understanding our
customers, working on the menu and finding right locations to open our outlets.
We are looking forward to open about 40 stores by end 2019."
Mr. Vir Sanghvi: "​Though Barcelos has an international
Portuguese-African menu, the Indian operation departs from the global pattern
to create its own kind of food: Portuguese-Mediterranean casual dining would be
a good description."​
About Barcelos: With a single operation founded in Pretoria, South Africa in
1993, Barcelos has grown exponentially which led it to start franchising in
1998. It has been expanding continuously and became a household name the world
over ever since. Barcelos enjoys its presence in 17 countries with 120
outlets. To ensure continuity and
excellence throughout the brand the founders of the brand, namely Costa Mazzis,
johan van Eyk and Beverley Vaskys, are all still actively involved in the
operations of the company. Company has a service office in London with its
group offices in Centurion, South Africa as well as national distribution
centers in Cape Town, Durban, Johannesburg and in Gaborone, Botswana. The
company currently employs in excess of 2000 staff and instills ongoing high
standards and expectations from all staff at head office and stores alike.
Now I' m still waiting for next opening in Gurgaon… Best wishes for your Hauz Khas Opening.
Tags: Porteguese,
African, khanmarket, hauzkhas, delhi restaurants, barcelos, review, food,
simplytadka, chicken, peri peri, molecular drinks, sangria, burgers.
Enter your email address:
Delivered by FeedBurner