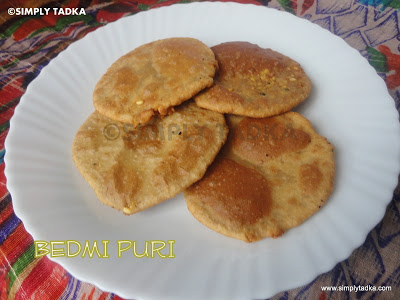 Last Updated on
Bermi Puri or bedmi poori is a popular Indian flat bread in Rajasthan and North India especially in Delhi and Uttar Pradesh which is served
as street food with potato curry or pickle. The bermi puri is prepared by
mixing plain dough with dals and spices and then deep fried.
This time I prepared bedmi puri, for this we have
to prepare dough with semolina and wheat flour and stuffing with moong dal and
spices. You can serve hot bedmi puri with Aloo ki sabzi and mango pickle. It's
really delicious and tasty. In our North side, we get this platter as a street
food in which includes puri, pickle, raita and aloo ki sabzi.
Preparation time: 40 Minutes
Cooking
Time: 15-20 Minutes
Serving: 6
Puris
Ingredients
For Stuffing
1/2 Cup Yellow Split Gram/ Moong dal
2 Tsp. Ginger
1 Green Chili
2 Tbsp. Coriander Powder
1/4 Tsp. Garam Masala
Salt to taste
1/2 Tsp. Red Chili Powder
Pinch of Asafoetida
For Dough
1 Cup Wheat Flour
1/4 Cup Semolina
1/2 Tsp. Salt
1 Tbsp. Oil
Enough Water
Oil for Deep Frying
Direction
Wash and soak the dal with water for one
hour. Grind the dal with green chili and ginger as chunky paste. Combine Paste,
spices into separate bowl and mix well. Stuffing is ready.
Combine flour and semolina, salt
and oil in large bowl. Mix with fingertips as crumbs. Now add enough water to
knead tight and stiff dough. Divide the dough into equal six portions. Roll each
portion in round disc form. Keep 1 Tbsp. stuffing and fold the edges. Roll out the
each portion of the dough, by using rolling pin and deep fry in oil. Serve hot
bedmi puri with aloo ki sabzi.
Blogging Marathon page for the other Blogging Marathoners doing BM#28

Enter your email address:
Delivered by FeedBurner