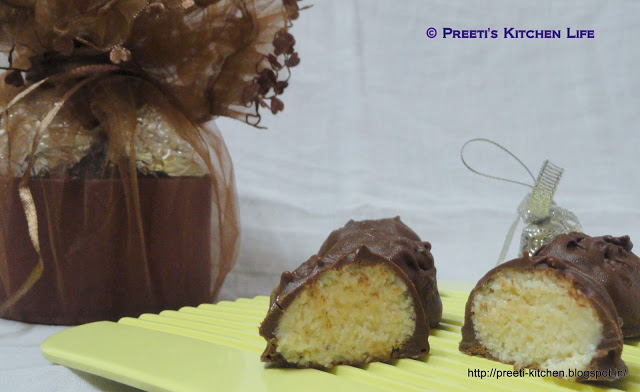 Last Updated on
Bounty chocolate recipe is very easy and sweet recipe with combo of
coconut and chocolate which loved by everyone in my family. In my childhood, I
ate this chocolate many times, but I got proper "bounty" name from the Aarthi's
blog.
Preparation Time: 10
Minutes
Cooking Time: Chilling time
Servings: 10 pieces
Ingredients
1 Cup Desiccated coconut powder (white)
100 Gm. Condense milk
Cooking Chocó chips
Butter for greasing
Aluminium sheet or butter paper
Directions
Combine condense milk and coconut powder in bowl and make ball
shaped from this mixture.
Now melt the choco chips in double boiler or microwaves… don't overcook
or direct on stove.
Now place the butter paper on dish or if you don't have butter paper,
so you can place aluminium sheet and grease with little butter.
Dip the coconut balls and coat with chocolate. Place the coated
balls on greasing plate and keep freezer till to set. You can keep remaining
chocolate balls in zip lock bag or airtight container for long time in freezer.
Submit this recipe
with following events:
Blogging Marathon page for the other Blogging Marathoners doing BM#23
Kids Delight event hosted by Veg junction, 1st anniversary event hosted by Siris Food.com, New U 2013 Event hosted by Cooks Joy, Christmas Cook-off event hosted by Foodomania