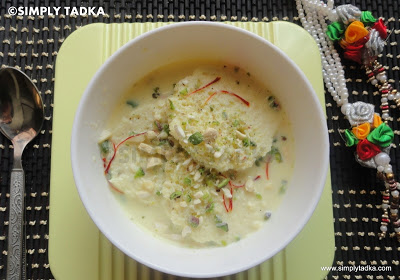 Last Updated on
Rasmalai is very popular Indian Bengali sweet
which available in whole India. Traditionally we have to prepare two portions;
one is ras i.e. chilled milk in thick consistency and second is Malai i.e. spongy
cheese balls. Both combine together in one bowl with lots of nuts and flavors
of rose water and cardamom. But Today I
post "Instant Bread Rasmalai"; under this recipe we made ras as same in rasmalai.
But instead of malai I used bread slices. I love this instant bread rasmalai,
really it's so tasty and easy to prepare.
Cooking Time:
30 Minutes +Chilling Time
Servings: 2
Persons
Ingredients
7-8 Bread Slices
500ml Milk
200ml Condense Milk/ Khoya
1/3 Cup Sugar (As per taste)
1 Tsp. Cardamom Powder
Few Drops of Rose Water
Few Saffron Strands
Chopped Nuts
(Pistachios, Almonds and Cashews)
Boil milk on medium flame and add condense milk or grated khoya.
Cook till to half quantity from the original.
Now add sugar, saffron
and cardamom powder.
Mix chopped nuts and keep aside to cool.
Cut the bread into round shape with the help
of bowl or cookie cutter.
At the time of serving, add bread slices and milk portion
in bowl.
Garnish with chopped nuts. Serve as chilled.
Note: If you use sweet condense milk then avoid whole sugar quantity.
Enter your email address:
Delivered by FeedBurner