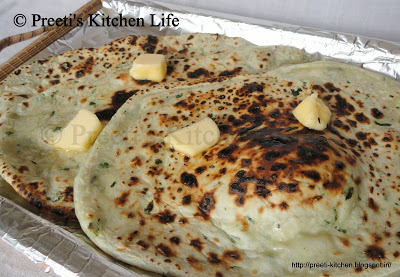 Last Updated on
Today I post "Butter
Naan" for last day of Cooking from Indian Restaurant theme in Blogging Marathon.
You can cook this naan on tawa/tava or tandoor whatever suits you….
It's really yumm and
increases the taste of food with some paneer gravy recipes. Under this recipe,
combine all ingredients together and knead soft dough and keep aside for two
hours to set. This technique is
same as follow in tandoori roti on tawa. Garnish with lots of butter and green
coriander.
Preparation time: 10
min + 2 hrs
Cooking time: 3-4 Min
for each
Servings: 3 Pieces
Ingredients
1 Cup Plain flour/ maida
Butter
Curd
Salt
Sugar
Baking soda
Chopped fresh green coriander
Lukewarm water for dough
Direction
Sieve flour and mix melted butter. Mix with fingertips look like
crumbs.
Now add salt, sugar, baking soda, curd, coriander and enough water and knead soft dough.
Cover with wet muslin clothe and keep aside for two hours to set.
Divide the dough into equal three portions.
Roll each portion separately
with rolling pin in oval shape but little thick.
Sprinkle little flour if needed at the time of rolling.
Heat the griddle or tawa on the medium flame. Spread little water on one
side.
Now lay this naan carefully from the water side on the tawa.
Now flip the tawa with naan
on high flame.
Cook for 2 minutes till to little brown spot comes and cook completely.
Do same with rest of dough.
Now spread lots of butter on the top and cut into halves at the
time of serving.
Submit this recipe
with the following events:
Blogging Marathon page for the other Blogging Marathoners doing BM#24

Enter your email address:
Delivered by FeedBurner