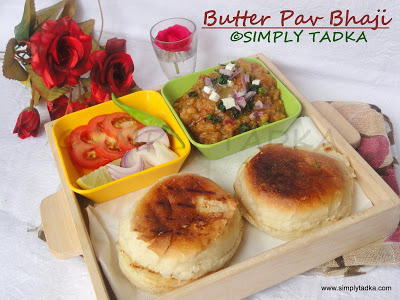 Last Updated on
Yesterday I was shared A for Almond cookies
under baking category and today comes to B alphabet, I choose B for Butter Pav
Bhaji under street food. Pav bhaji is a Maharashtraian fast food spicy
dish that originated in Mumbai cuisine. It is native to Mumbai and has now
become popular in most metropolitan areas in India, especially in those of
central and western Indian states such as Gujarat and Karnataka. Bhaji in
Marathi means vegetable dish. Pav bhaji consists of bhaji (a thick potato-based
curry) garnished with coriander, chopped onion, and a dash of lemon and lightly
toasted pav.
The pav is usually buttered on all sides. It
can be eaten as a snack or as a meal in itself. It is often eaten as an evening
snack between lunch and dinner, particularly in western India. In this part,
Pav bhaji is available on hand carts. It is also available in hotels and
eateries serving fast food. In recent years, Pav bhaji is also consumed as a
light evening meal, and is also a party favorite.
Blogging marathon #32 event hosted by Srivalli,
where we are celebrate whole September month with A-Z cooking. There are four categories
one is baking theme, second is international and fusion, third is street food
and forth and last is regional food.
Preparation
Time: 30 Minutes
Cooking
Time: 40 Minutes
Servings: 6
Persons
Category:
Street Food
Ingredients:
For Pav
12 Indian Buns or Dinner rolls
Butter for shallow fry
For Bhaji
2 Large Potatoes peel and chopped
1 Cup Cauliflower florets
2 Green Capsicums, chopped
1 Large Eggplant, chopped
2 Carrots peel and chopped
1/2 Cup Peas
2 Large Onions, chopped
3 Large Tomatoes, chopped
1 Tbsp. Ginger-Chili Paste
2 Tbsp. Pav Bhaaji Masala
1 Tsp. Turmeric Powder
Salt to taste
1/4 Cup Butter
2 Tsp. Cumin seeds
2 Tbsp. Lemon Juice
Green coriander, chopped for garnishing
Instructions:
Wash and chop the all vegetables.
Boil the chopped potatoes, peas, carrots,
cauliflower and eggplant in pressure cooker till to 2-3 whistles (without
water).
Chop the onion, tomatoes and capsicum in fine
form.
Heat the butter in deep bottom pan.
Add cumin seeds, when they start splutter.
Add green chili and ginger paste and sauté
for one minute.
Add chopped onion and sauté till to
translucent.
Add tomatoes and cook till to soft and mashy.
Add chopped green capsicum and cook for two
minutes.
Add boiled vegetables and mash them with
masher or back side of ladle.
Add pav bhaji masala, turmeric powder and
salt.
Add more butter if needed. Mix well and cook
for more 15 minutes.
Add lemon juice and green coriander for
garnishing. Bhaji is ready.
Heat the non-stick tawa. Toss the pav with
butter till to golden and crisp.
Serve hot pav bhaji with tomatoes and onion wedges and extra butter.
Note: you can change the vegetable as per
suitability and choice.
Enter your email address:
Delivered by FeedBurner