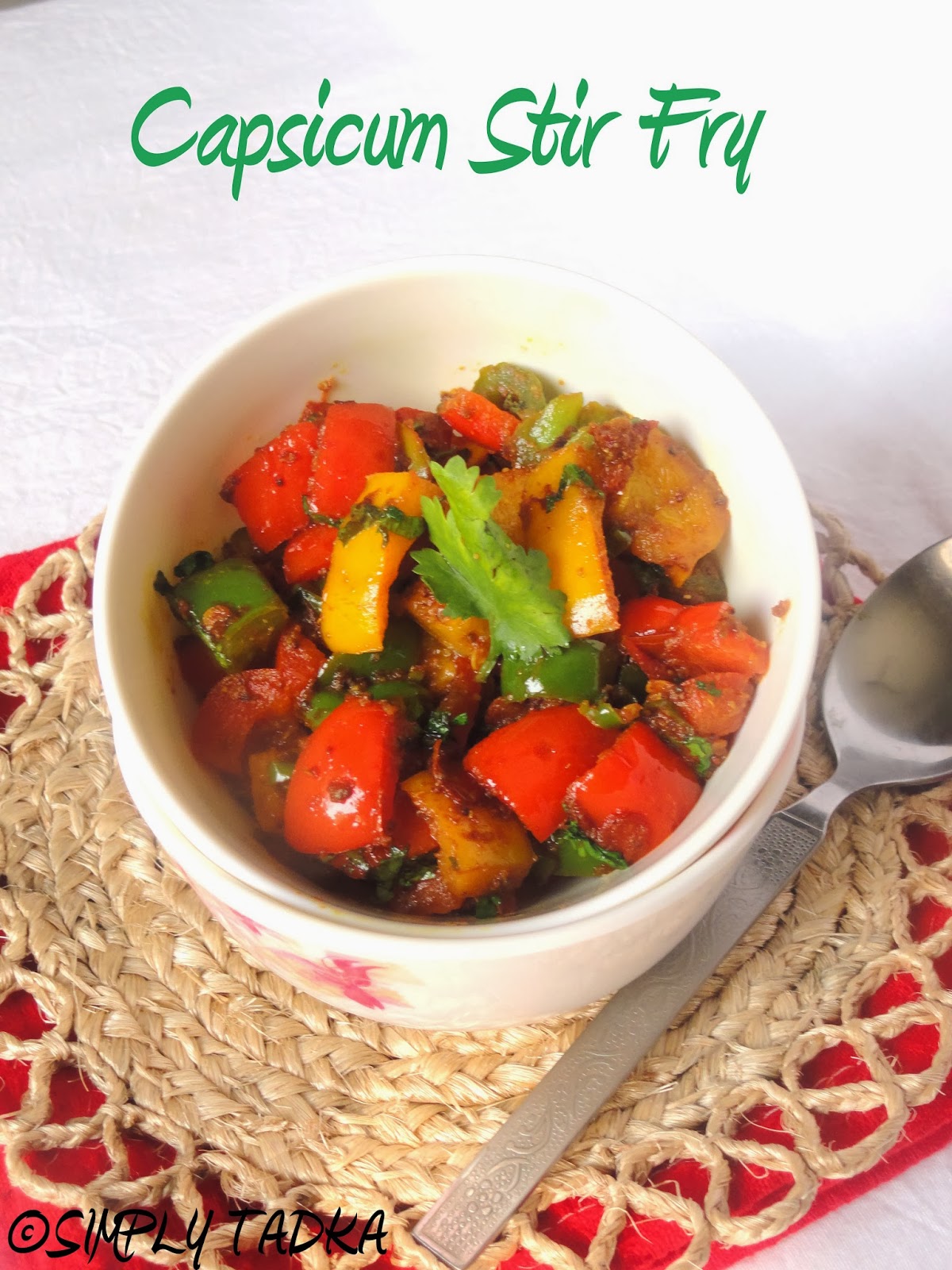 Last Updated on
Capsicum stir fry is really crunchy and
simple to cook recipes, for this recipe you have to saute diced colorful capsicums with chopped tomatoes and spices. You can serve this stir fry recipe
as side dish with gravy and flat-bread.
I love capsicum or bell pepper just
because of crunchy taste and vibrant colors of yellow, green, red and orange. It
contains antioxidants like beta carotene, lutein and zeaxanthin
(phytochemicals) and vitamin C. After consumption of capsicum, the body
converts beta carotene into retinol, which is one of the most usable forms of
vitamin A. These combine together and minimize damage caused by the free
radicals to the tissues, arteries and nerves and it also helps in prevention
and treatment of heart diseases, osteoarthritis, bronchitis, asthma, cataract
etc. (google.com)
Preparation
Time: 10 Minutes
Cooking
Time: 15 Minutes
Servings:
4
Category:
Veg Curry
Ingredients:
3 Capsicum, cubed
1 Tomato, finely chopped
1 Tsp. Green Chili and Ginger Paste
1/2 Tsp. Turmeric Powder
1/2 Tsp. Red Chili Powder
2 Tsp. Coriander Powder
Salt to Taste
1/2 Lemon Juice
1 Tbsp. Oil
1/2 Tsp. Mustard Seeds
1/4 Tsp. Asafoetida
Instructions:
Heat the oil in pan and add mustard
seeds, asafoetida and turmeric powder.
Add ginger chili paste and chopped
tomatoes. Sauté until to cooked.
Add coriander powder and red chili powder
and mix it.
Add chopped capsicum and cook until to
tender.
Add salt and lemon juice and mix it.
Garnish with cilantro and serve hot.
Tags:
how to cook capsicum stir fry, masala
capsicum stir fry, bell pepper stir fry, bell pepper recipes, capsicum recipes,
instant capsicum recipes, main course recipes, Lunch or dinner menu, tiffin
recipes, easy way to cook capsicum masala recipe.
Enter your email address:
Delivered by FeedBurner