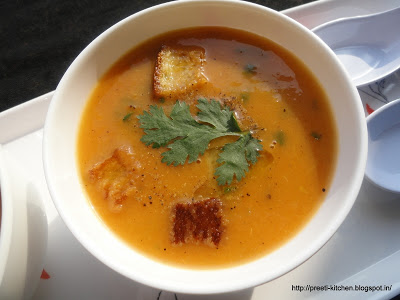 Last Updated on
Today I post very healthy and rich in flavor i.e. "Carrot
Coriander Soup" in little thick puree type consistency which is made with
boiled carrots and with little great flavor of potato, onion and coriander. This
time I serve this soup with little more butter and chopped green coriander with
fried bread pieces.
It's orange color with great taste which is good for on-going
winter season and health too. You can add
cream also for a great color and more taste. If don't like this puree
consistency soup then you can filter this via strainer.
Preparation Time: 15
Minutes
Cooking Time: 35
minutes
Serving: 6 persons
Ingredients:
4-5 Carrots peel and diced
1 Medium sized Potato, diced
2 tbsp. Olive oil
3 tbsp. Butter
1 Bay leaf
1 medium sized Onion, sliced
1 medium sized Tomato, diced
2 Cloves
3-4 Whole black peppers
1 bunch of fresh Green coriander
Salt to taste
2 tbsp. Black pepper powder
1 tsp. Sugar
Fried Bread pieces for garnishing
Pictorials:
heat olive oil , butter and saute clove, bay leaf, black pepper
saute onions
saute onion and tomato
combine boiled carrots and potato in bowl with stock
add cook onion, tomato and stems
blend it till to puree consistency
heat butter in apn
add puree, salt, black pepper powder, remaining stock
add handful chopped coriander and little sugar
healthy carrot coriander soup is ready to serve
Directions:
Wash and peel carrots and potato and chopped diced form. Now boil the
potato and carrots in pressure cooker with salt and water for 5-6 whistles.
Now heat 2 tbsp. olive oil and 1 tbsp. butter in the pan and add
bay leaf, cloves and black peppers, when they start splutter. Add onion sauté till
to little golden. Add tomato sauté till to soft and seasoning with little salt.
Add clean stems of fresh coriander and cook for 3-4 minutes.
Now add boiled carrots, potatoes with water in big bowl and add
onion tomatoes and stem mixture in it. Blend it till to puree consistency.
Now heat the remaining butter in another pan and add carrot puree
with remaining stock (carrot water). Add salt according to your taste buds and black
pepper powder, little sugar also.
Add fine chopped green coriander in soup. Boil it till to cook well
for 10-15 minutes.
Garnish with butter or cream with fried bread pieces.
Submit this recipe
with the following events:
Blogging Marathon page for the other Blogging Marathoners doing BM#23
60 days To Christmas event hosted by Divya and Cookoff Christmas event Hosted by Foodomania
1st anniversary event celebration hosted by Siri's Food.Com
WTML event hosted by Nithu Bala and Only event hosted by Pari