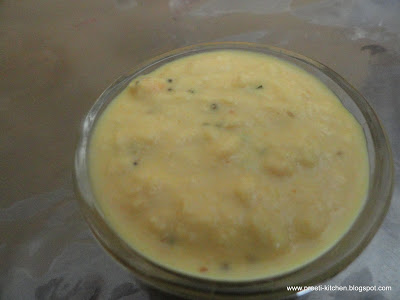 Last Updated on
Red
gram Chutney, It is specially made for to serve with Masala dosas. You will have
to try it.
If you want
the chutney color bright yellow or orange, use only red chillies with some paprika.
I used dried red chillies, few dry curry leaves and mustard seeds in tempering.
 Adjust the salt, chillies and tamarind
according to your taste.
Ingredients
½ cup
chana dal (red gram) soaked in water for 3-4 hours
3-4 curry
leaves
2-3 dry
whole red chilies
½ tsp.
mustard seeds
1 tbsp.
ghee
A pinch of
turmeric powder
½ tsp. red
chilies powder
Few drops
of lemon juice
Salt to
taste
Method
Grind soaked
chana dal into mixer and make fine smooth paste.
Now add
salt into and place into bowl from grinder.
Heat the
pan into med. Flame, add ghee, red chilies, curry leaves, mustard seeds and
turmeric powder in to ghee and prepare tadka for chutney.
Add tadka
into smooth paste of chana dal.
Add lemon
juice also. Serve this chutney with pancakes (dosa, chilla, chapaati etc).