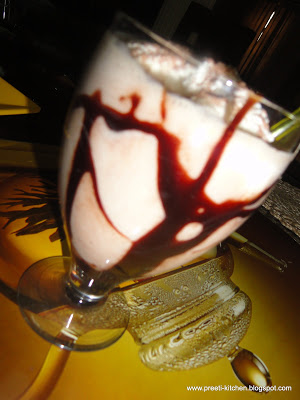 Last Updated on
Chikoo Choco milkshake is good option for kids and adults both. It's
very healthy and refreshing drink for everyone.  With chocolate and ice-cream milk gives good
thickness as well good taste.
Ingredients
2 medium sizes chikoo (Sapodilla)
2 tsp. sugar
1 glass milk
2 scoop ice-cream
2 tbsp. chocolate sauce
Drinking chocolate
Method
In blender add, peel and chopped chikoo
and half glass of milk and sugar. Blend well. Now again add remaining milk, 1
tbsp. chocolate syrup and 1 scoop ice-cream. Blend again.
Garnish glass with chocolate syrup and
place in freezer for 5 minutes till to set. Pour chikoo shake in glass and add
1 scoop ice-cream on top.
Sprinkle drinking chocolate on top of
glass and serve cool.
submit this recipe with following events