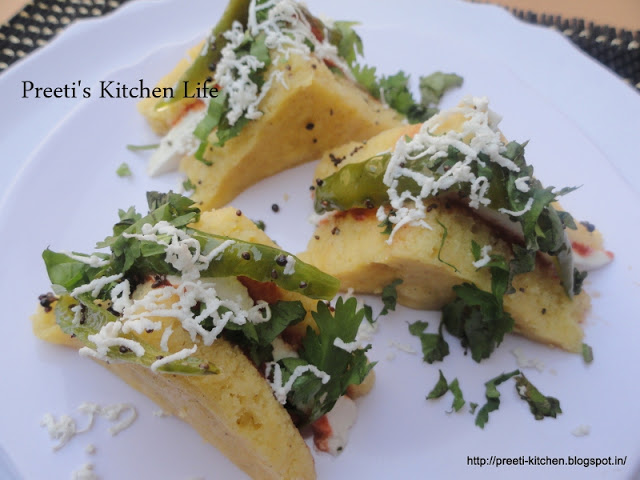 Last Updated on
Today is 2nd day of Blogging Marathon under the theme of
Sandwich and Wraps. Under this recipe, we add the flavour of chilli sauces and
cottage cheese with dhokla to prepare this sandwich. For how to prepare dhokla,
you can check the link of dhokla recipe as under. You can add pomegranate too
in sandwich to more colourful presentation.
Preparation Time: 20 Minutes
Cooking Time: 10 Minutes
Ingredients:
Cottage Cheese (Paneer) Slices
Red Chilli Sauce
Green Sauce
Fresh Green Coriander, Chopped
Mustard Seeds
Vegetable oil
Water
Green Chili, Slices
Lemon juice
Salt
Sugar
Directions:
Now cut the dhokla into triangle shape.
Spread red chilli sauce on slice and green sauce on other slice.
Place the paneer slice between the both slices.
Now pour little more
tempering
on the top of dhokla and place green
chilli on the top of dhokla sandwich.
Now garnish with grated paneer and chopped green coriander.
Submit this sandwich recipe with the following events:
Blogging Marathon page for the other Blogging Marathoners doing BM#21

Kids delight event hosted By Rasya
Diwali Bash Event Hosted by Cooks Joy
Celebrate Navratri and Diwali Event Hosted by Simply Food
60 days to christmas event hosted by Divya
Street Food event hosted by Chef Al Dente