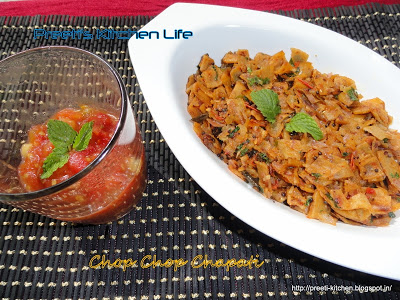 Last Updated on
Today I post "Chop Chop Chapati" recipes from
Rajani's blog MyKitchen Trials
which paired with me for this special theme in Blogging Marathon
20. It's just like poha which prepared with some leftover chapati's or paratha's
and also a great combo of some onion and tomato and spices mixture.
It's a very good option to used leftover food especially chapati in
daily life of kitchen. Every one faces this in day to day kitchen routine and
also good for breakfast meal. I made this as a breakfast meal and serve this
some dip and refreshing
orange mint water
.
I love this name especially which chose by Rajani ie. Chop Chop
Chapati…….
Hope so all food lovers' love this recipe and of course, once you
make it in your kitchen
Preparation Time: Less than 15 Minutes
Cooking Time: 15-20 Minutes
Servings: 2 Persons
Ingredients:
2-3 Leftover Chapati or Paratha's
1 Large Sized Onion, Chopped
1 Large sized Tomato, Chopped
1 Green Chili, Chopped
4-5 Curry leaves/ Kadhi Patta
1/2 Tsp. Mustard Seeds/ Rai
1 Tbsp. Clarifying Butter/ Desi Ghee
1/2 Tsp. Pav Bhaji Masala
Salt to taste
1/4 Tsp. Turmeric Powder
Half Lemon Juice
1/4 Cup Fresh Coriander, Chopped
Directions:
Cut the leftover chapati or paratha into small pieces. Heat the
ghee in wok and add mustard seeds and curry leaves, when they start splutter. Add
onion and green chilli, cook till to translucent.
Add tomatoes and cook till to soft and mashy. Add all spices, salt,
pav bhaji masala, turmeric powder and chilli powder. Mix well.
Add chopped chapati's and cook for 3-5 minutes. Add lemon juice and
garnish with chopped coriander leaves. Serve hot chop chop chapati in breakfast.
Submit this recipe with the following events:
Blogging Marathon page for the other Blogging Marathoners doing BM#20
Kids Delights hosted By Srivalli and Lets Virtual Bday Party event Hosted by Pallavi