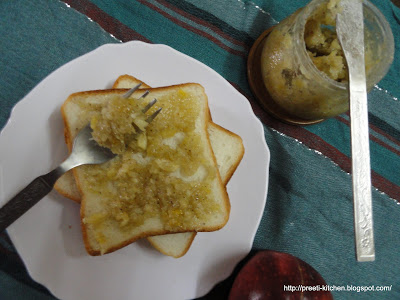 Last Updated on
Today I post a spread recipe which you used with bread slices or with pranthas. In this recipe, we used red hard ripe apple and cinnamon powder. For chunky taste add 1 tbsp. mango puree also. To look little chunky we did not mash apple completely.
Ingredients
2 red apples
1/2 cup sugar
1 tbsp. mango puree
2 tsp. cinnamon powder
1 tsp. lemon juice
A pinch of salt
Method
Wash and peel the apples and chopped this apples into small pieces. Now give one boil in microwave or with water on gas stove. Mash this soft apple gently. And add mango puree, salt and sugar well. Heat the pan on medium flame and place the mixture into pan and stir it continuously until mixture become thick like spread or jam. Now remove from the fire and add lemon juice and cinnamon powder and mix well. Keep cool aside for small period and pour into clean and dry glass jar. Use this completely yummy spread with your brown or white bread in breakfast.
submit this spread recipe with following events:
Blogging Marathon page for the other Blogging Marathoners doing BM#15