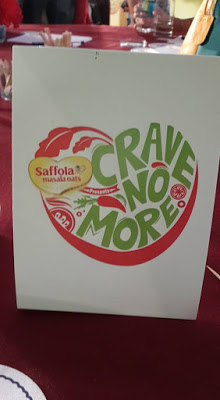 Last Updated on
Food enthusiasts from across the
country came together for a great culinary experience in the capital city!
Have you ever-imagined Chinese and Italian cuisine being guilt
free? Globally renowned Chef extraordinaire, Kunal Kapur now brings to you the
new Saffola Masala Oats, Chefs Choice range in Italian & Chinese flavors, a
delightful treat for the taste buds. To celebrate the launch of these exquisite
flavors, Saffola Masala Oats hosted top bloggers from across India for a
fun-filled and enriching gastronomic experience with gourmet chefs – Kunal
Kapur, Saransh Goila and Shipra Khanna.
During the meet, Chef Kunal
Kapur announced a two-phase competition around #CraveNoMore with
SaffolaMasalaOats. The Phase I of #CraveNoMore took off in Delhi; an exciting mystery box challenge wherein 40 food bloggers were
presented with the task of identifying exotic Chinese & Italian food
condiments. Out of these, 24 bloggers became a part of the exhilarating cook-off thereafter creating quick recipes using Saffola Masala Oats Italian and
Chinese variant as the key ingredient.
Judged by the Fit Foodie panelists, Chef Kunal Kapur, Chef Shipra
Khanna and Chef Saransh Goila, announced Adarsh Munjala, The Big Bhookad; Kumar
Jhuremalani, Pet Pujaris; Saloni Malkhani, Food Bloggers Association of India
(FBAI); Sayantani Mahapatra, A Homemaker's Diary; Priya Sharma, Mumasfooddiary and
Richa Gupta, Myfoodstory as the winners for the phase I. The winners from this phase will go on to
Phase 2 of the competition and will participate in a 'food-truck' challenge in
Mumbai.
The Fit Foodie panelists, Chef Shipra
Khanna and Chef Saransh Goila went on to create some unique and interesting
snacking recipes through their master class with the bloggers. While Chef
Shipra chose Italian Saffola Masala Oats and came up with the delicious Cottage
cheese oats with yogurt and apple salad recipe, Chef Saransh Goila picked the
Chinese variant and prepared Saffola Masala Oats Chinese Wraps in just a few
minutes.
Commenting on the occasion, Saffola Masala Oats brand Ambassador, Chef
Kunal Kapur, one of the most celebrated faces of Indian cuisine today and
winner of several National culinary awards, said "It feels great to be
associated with Saffola Masala Oats in their innovation journey and co-creating
the new Chinese & Italian flavors. As part of Saffola Fit Foodie panel, we
always encourage people to adopt healthy eating habits and I believe these new
variants are a perfect blend of tasty yet healthy snack. Today at Saffola #CraveNoMore meet, I was
impressed to see the creative way food enthusiasts showed off their best
culinary skills!"
"I am glad to be a part of Saffola
Masala Oats fit foodie panel. It was truly an experience to witness the
#CraveNoMore cook-off event today in Delhi, where the online food influencers
gave an interesting and creative spin to Chinese and Italian flavor oats", said
India's youngest celebrity chef Saransh Goila also known for his popular show
Roti Rasta Aur India and Health Challenge.
MasterChef India winner Chef Shipra
Khanna added," I am delighted to join Saffola fit foodie panel and feel
the new flavours are an apt solution to satiate the hunger craving of health
conscious people. Italian being my favorite cuisine, it was a fun saturday
spent with the online food community exploring some scrumptious dishes prepared
with Italian Oats. Many congratulations to the winners #CraveNoMore Cook-off
and looking forward to meet them soon in Mumbai.
Saffola Masala Oats has created the
'unthinkable' by smartly infusing the essence of most popular international cuisines
in India- Chinese and Italian, in Oats. The new flavours have been introduced
to make snacking guilt-free and unbelievably tasty. With universal appeal to
consumers across varied age groups ranging from children, youth to adults, these
variants are first-of-its-kind offering in in oats in both domestic and international
market.
Variants description:
·
Saffola
Masala Oats Chefs Choice Chinese Flavor has a spicy tangy taste, which comes
from a mix of juicy corn, crunchy french beans and capsicum, leaving you with
an authentic Chinese flavour.
·
Saffola
Masala Oats Chefs Choice Italian Flavor is a delectable mix of green capsicum,
spicy red chilli flakes, oregano and a dash of pepper which gives it a cheesy
taste with just the right amount of spice.
The Saffoala Masala Oats, Chefs Choice
range in Chinese and Italian is not only loaded with the health of whole grain
Oats and vegetables but is also bursting with delicious international flavours,
making it an ideal to satiate one's cravings for a healthy snack.
An apt solution for hunger craving of health conscious focused
consumers – men, women and healthy snacking options for children #CraveNoMore!
Enter your email address:
Delivered by FeedBurner