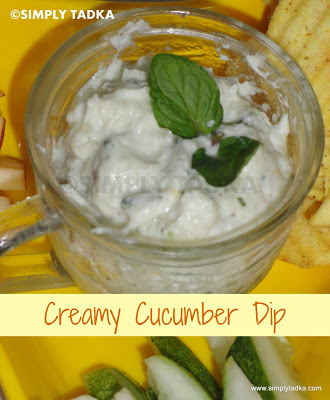 Last Updated on
I choose miscellaneous theme for 4th week of BM#27, under
this we have to post some crafty and basic recipes… For the very 1st
day of this theme, I prepared "Creamy Cucumber Dip" which serve with fresh
fruits, biscuits, crackers, nachos or chips. It's a very refreshingly cool and
minty in flavors. This creamy texture makes this dip so beautiful and
refreshing and explores the taste of snacks. You can prepare this dip in few minutes
and serve chilled. It's a really good accompaniment to serve….. You can prepare
eggless mayonnaise
too at home.
Preparation time:
10 minutes
Chilling time:
30 Minutes
Servings:
1/2 Cup
Ingredients
1/4 Cup Grated Cucumber
1/6 Cup Hung Curd
2 Tsp. Mint Paste
Salt to taste
Direction
Peel and grate the cucumber. Squeeze out the
water from the grated cucumber. Make paste of mint leaves. Blend all
ingredients together in one bowl. Keep aside in freeze for minimum 30 minutes. Now
serve this yummy and creamy dip with fruit and chips.
Enter your email address:
Delivered by FeedBurner