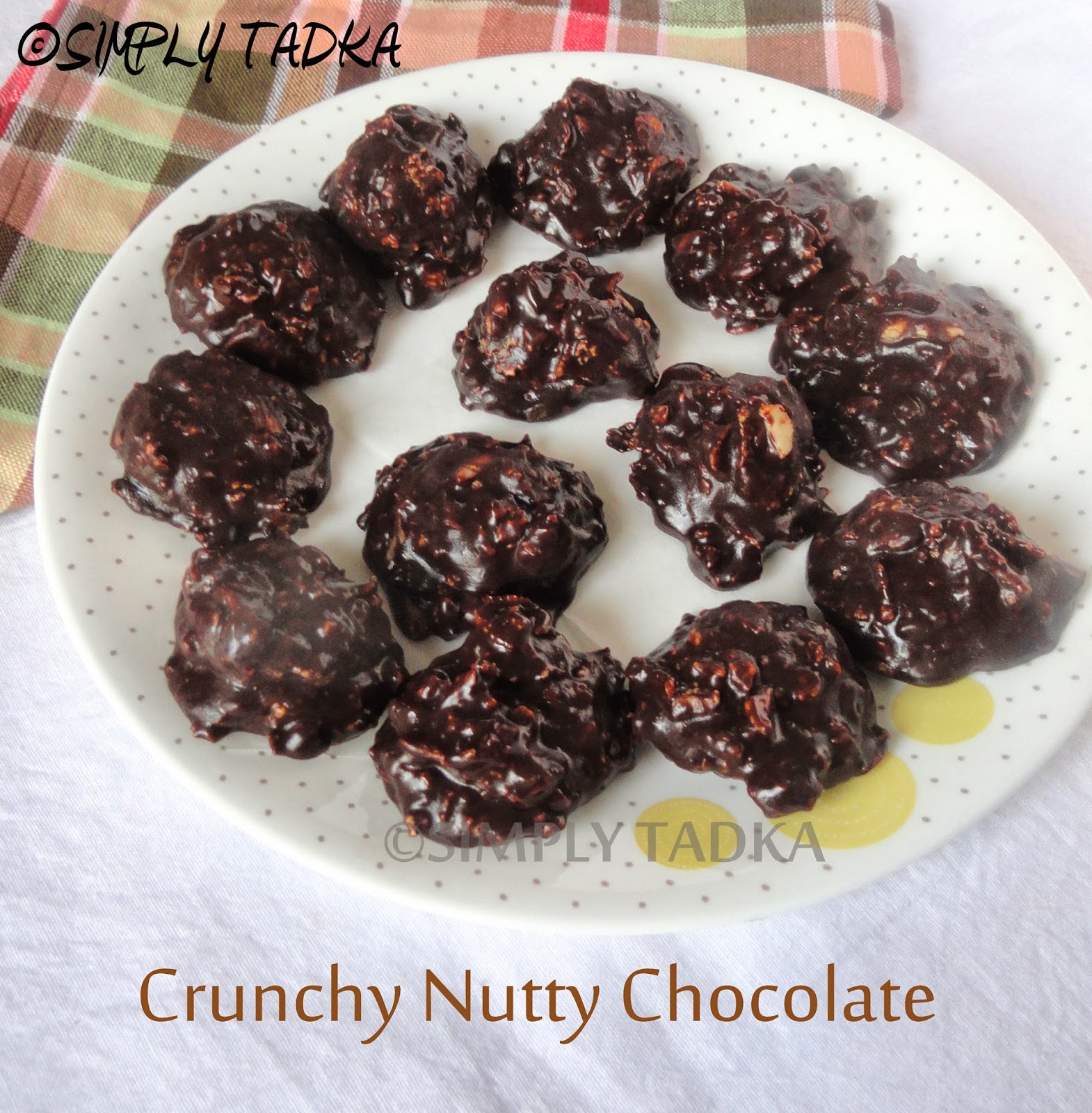 Last Updated on
Crunchy Nutty Chocolates recipe is very
simple and easy to make with few steps, you have to mix the cornflakes and nuts
in melted chocolate, cool and enjoy. You can gift these chocolates to your love
ones on special occasion or upcoming Diwali festival. Cornflakes give crunchy texture and dry nuts
(cashews, pistachios, almonds) gives nutty taste to these chocolate.




Preparation
Time: 15 Minutes
Cooking
Time: 15 Minutes
Servings: 15
Category:
Chocolate
Ingredients:
100gm Dark Chocolate, chopped (Semi Sweets)
50gm White Chocolate, chopped
1/2 Cup Cornflakes, Crushed
1/4 Cup Butter, soft
3 Tbsp. Milk
3 Tbsp. Icing Sugar
1/2 Tsp. Vanilla Essence
1/4 Cup Nuts, Chopped (Almonds, Pistachios
and Cashews)
Instructions:
Microwave the butter and both chocolate
together in deep vessel until to smooth and melt.
Add the milk, icing sugar and vanilla essence
and mix well.
Add the cornflakes and chopped nuts and mix
well.
Using a plate lined with butter paper or
parchment paper, place 1 tbsp mixture to butter paper to make chocolate bites.
Freeze it until to set and Enjoy.
Notes:
Adjust the sugar according to chocolate
sweetness or tastebuds.
You can choose any combination of nuts like
walnuts, raisins, almonds, fig and more.
You can use double boiler method to melt
chocolate.
Tag: how to
make chocolate at home, homemade instant chocolate, dark and milk chocolate,
nutty chocolate, cornflakes and dry nuts chocolate, how to prepare or cook
chocolate for festivals, Christmas or valentine, instant recipe.
Enter your email address:
Delivered by FeedBurner