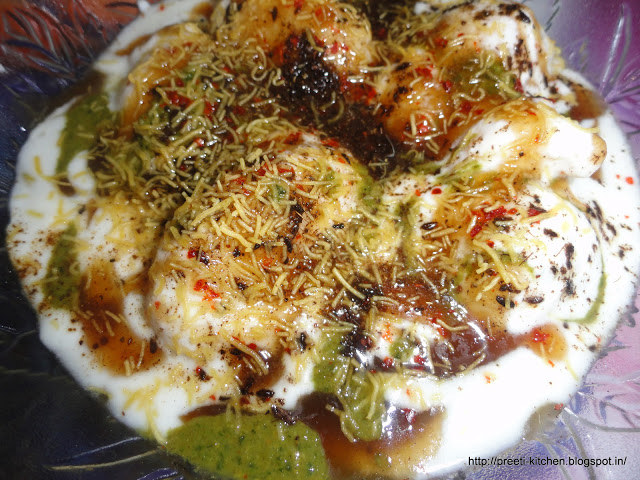 Last Updated on
Dahi bhalla is a very popular North Indian street food recipe.
Basically, Dahi bhalla are lentil (black gram/urad dal and yellow split pulse)
based savory balls which are smothered with frothy fresh curds and sprinkled
with spices like chili powder, cumin, chaat masala and salt with sweet
chutney.
Ingredients
For the Bhalla's
¾ cup moong dal (yellow
split dal)
¼ cup dhuli urad dal (split
white lentil)
½ tsp. meetha soda or soda
bi carbonate
½ tsp. salt
Vegetable oil for frying
For the serving
Sweet chutney or tamarind
chutney
Green coriander chutney
Whipped curd
Sev
Roasted cumin powder
Salt to taste
Red chilies powder
Chaat masala
Method
For the Bhalla's
Clean, wash and soak both
pulses in 2 cup water for overnight. Now drain out the water and grind the dal
in mixer to a smooth paste. Whisk the batter and add salt and meetha soda and
again continuously whisk well. Now heat the sufficient oil in the deep wok, Drop the batter in
it and fry until light golden. Drain onto an absorbent paper. These are now
called bhallas or vadas. Put bhallas into hot water. Leave for two minutes.
For the serving
Squeeze the excess water
from the bhallas and place them into the plate. Spread meethi chutney, green
chutney and curd over it. Sprinkle salt, chaat masala, red chillies powder and
roasted cumin powder over the bhalla and garnish with sprinkling few sev and
green coriander.
Submit this recipe following events