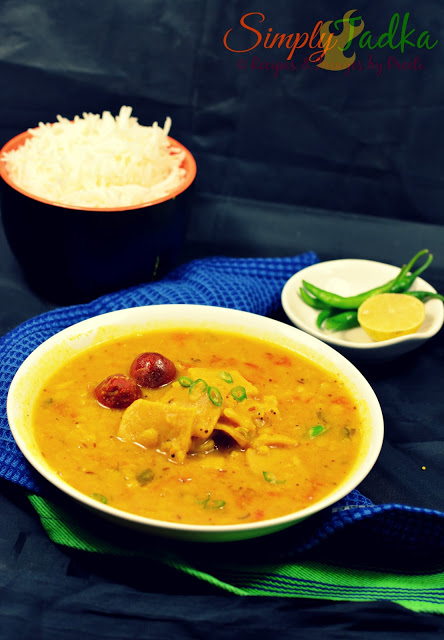 Last Updated on
Dal Dhokli is very popular Gujju recipe which made with
arhar dal and flour dumplings. It's a one pot recipe which serves along with
rice.
Dal Dhokli is a Gujarati, Rajasthani and Maharashtrian
dish made by boiling flour based noodles or dumpling in split pigeon peas stew.
It is widely
believed that the Marwaris who had migrated to Gujarat invented the dish. While
the dish remains popular in Marwar part of Rajasthan, it is Gujaratis who have
made it a staple in their homes. It is considered a comfort food.
Dal Dhokli – Gujarati Cuisine
Preparation
Time: 15 Minutes
Cooking
Time: 35 Minutes
Servings:
4
Category:
Dal
Cuisine:
Gujarati
Cooking
Method: Boiling
Ingredients
For Dal
1 Cup Split Yellow Chickpeas (Arhar Dal)
2 Tomatoes, Diced
2 Tbsps. Ghee/ Oil
1/4 Tsp. Asafoetida/ Hing
1/2 Tsp. Cumin Seeds
Red Chili Powder to Taste
1/2 Tsp. Turmeric Powder
1 Tsp. Coriander Powder
Salt to Taste
2-3 Dry Red Chilies
Few Curry Leaves
2 Green Chilies, Chopped
For
Dhokli
1 Cup Wheat Flour
2 Tbsps. Gram Flour
1/2 Tsp. Red Chili Powder
1/2 Tsp. Turmeric Powder
Salt to Taste
1 Tbsp. Oil
Water, for Dough
Instructions:
Wash and Soak the dal in water for 30
minutes at least. Place the dal in pressure cooker with 2 cups of water, salt
and turmeric powder.
Cook the dal in cooker till to 2-3
whistles. Release the steam and keep aside.
Add wheat flour, gram flour, salt, red
chili powder, oil, and turmeric powder in separate bowl and mix it. Add enough
water slowly to knead soft dough like chapatti. Cover and keep aside for 15
minutes to rest.
Divide the dough into equal portion in
round shape. Dust with dry flour and roll it like chapatti. Now cut into 1 inch
strips like small cubes. Keep aside and sprinkle little flour to avoid dryness.
Take a thick bottom pan, add oil on
medium flame. When oil is hot enough, add cumin seeds, asafoetida, curry
leaves, dry red chilies and saute these spices for 2 minutes.
Add chopped green chilies and tomatoes. After
that add coriander powder and red chili powder and saute few minutes till to
oil starts release.
Once tomatoes are cooked, add cooked dal
and dhokli one by one. After one boil, reduce the flame on low and cook till to
dhokli becomes tender and fluffy.
Now garnish with coriander and extra
spoon of ghee, serve with rice as one pot meal.
Notes: You can sugar also if you prefer little
sweetness.
Even you can add kokum also instead of
tomatoes to get tangy flavor.
Tags: how to make dal dhokli, Guajarati
cuisine, main dish, main course, dal, dal dhokli recipe, protein rich recipe, blogging
marathon, simplytadka, dal recipe, Indian curry, Indian dal recipe, vegetarian recipe,
one pot meal, healthy recipe, everyday meal, lunch menu, dinner menu.
Did
you make this recipe?
If yes, do let us know how it turned
out in the comments below. Do share a picture with us simplytadka@gmail.com or
share on Instagram with hashtag #simplytadkarecipes and tag us @simplytadka
Check out the Blogging Marathon page for the other Blogging Marathoners doing BM# 80