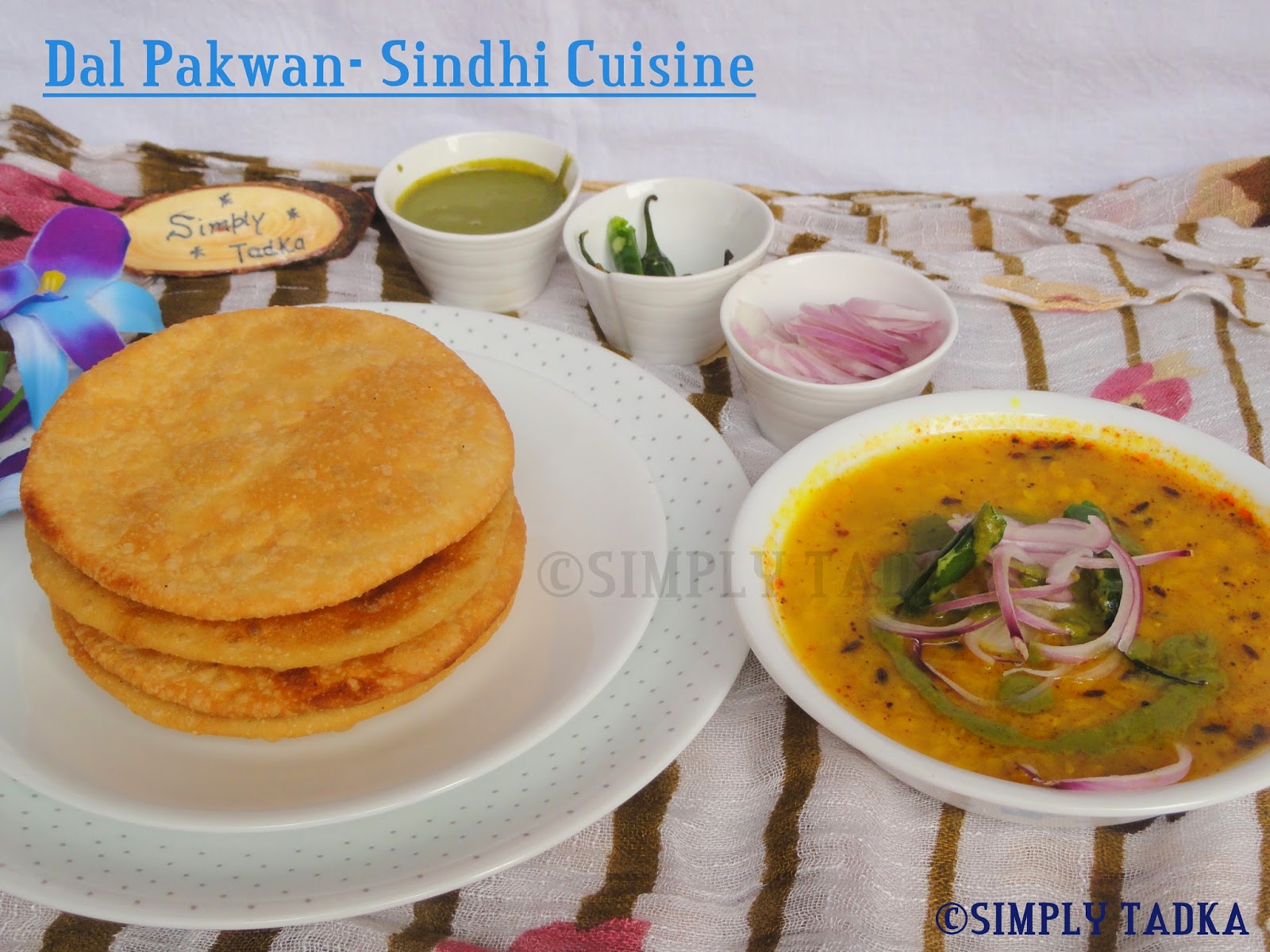 Last Updated on
Dal Pakwan
is very popular recipe of Sindhi cuisine which serves as breakfast or brunch
meal, in this recipe spicy chana dal or Bengal dal curry served with crisp
puris. For this dal pakwan, you have to prepare whole menu into two parts one
is pakwan and second is spicy chana dal and accompaniments with green chutney,
crisp fried green chilies, and raw chopped onions which makes this platter more
tempting and tasty. You can use imli chutney also for sweetness.
Preparation Time: 1 hr
Cooking Time: 30 Minutes
Servings: 4
Category: Sindhi Cuisine
Ingredients
For Pakwan
1 Cup All
Purpose Flour/ Maida
2 Tbsp. Wheat
Flour/ Aatta
1 Tbsp. Semolina
3 Tbsp. Ghee
Salt to
taste
Water for
dough
Oil for deep
frying
For Dal
1 1/2 Cup Split
Bengal Gram/ Chana Dal
Salt to
taste
1 Tsp. Turmeric
Powder
For Tempering
Ghee
1/2 Tsp. Amchoor
powder/ Raw Mango Powder
1/2 Tsp. Garam
Masala
1 Tsp. Red
Chili Powder
1 Tsp. Cumin
Seeds
For Garnishing
Onion Slices
Fried Green
Chilies, Roughly Chopped
Green Coriander
Chutney
Fresh Green
Coriander, chopped
Instructions
For Pakwan
Sieve the
flour and semolina in large bowl, add ghee and salt and mix it with fingertips.
Add enough water to knead semi soft dough.
Divide the
dough into equal 8-10 portions. Roll each ball into chapati of four inch
diameter. Prick lightly with the help of fork.
Heat the sufficient
oil in wok for deep frying. Fry the each pakwan on low heat till to golden and
crisp. Remove the fried and crisp pakwan on tissue paper to absorb extra oil
and keep aside.
For Dal
Soak the dal
for 2 hours. Boil the dal with salt, turmeric powder and 3 cups of water in
pressure cooker till to 2 whistles.
Take Tadka
pan, add ghee and add cumin seeds. When
they start splutter, add garam masala, red chili powder and raw mango powder. Add
the tadka or tempering over the dal.
Garnish with
onion slices, fried green chilies and green coriander chutney. Serve this dal
with crisp pakwan.
Notes: Dal should be cook, not overcook.
Each grain should visible in curry.
For fried
green chilies, just take 4-5 green chilies and chop roughly and fried them into
oil.
During
making green chutney, you can add imli pulp too for tangy flavour.
Tags:
how to prepare dal pakwan, dal recipes, dalpakwan recipes, sindhi recipes,
snack recipes, streetfood, how to make dal pakwan at home, step by step dal
pakwan recipe, simplytadka, vegetarian recipes.
Enter your email address:
Delivered by FeedBurner