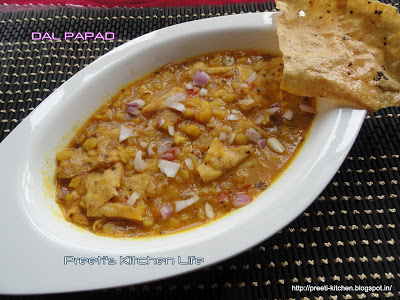 Last Updated on
Today is the last day of 2nd group In Blogging Marathon
20 Under theme of "Delicious Dal"… So tried something different with dal…. that
is "Dal Papad".
Under this recipe of Dal Papad, I used tuvar or split yellow pigeon
peas lentils, add some spices and onion tempering bole to Tadka… with unique
combo of fried papad.
It's really tasty and all ingredients are easily available in our
day to day kitchen.
It's accomplished with
tandoori roti
…… which increase taste of this
dal with some spicy onion salad.
Preparation Time: 15 Minutes
Cooking Time: 30 Minutes
Serving: 3 Cup
Ingredients:
1/3 Cup Split Yellow Pigeon Peas/ Tuvar Dal
Salt to taste/ Namak
1/4 Tsp. Turmeric Powder/ Haldi
2 Tbsp. Clarifying Butter/ Desi Ghee
1 Onion, Chopped/ Pyaaz
1 Tomato, Chopped/ Tamatar
1 Green Chilli, Chopped/ Hari Mirch
1/4 Tsp. Mustard Seed/ Rai
1/4 Tsp. Cumin Powder/ Jeera
1/2 Tsp. Fenugreek Seeds/ Methi Dana
A pinch of Asafoetida/ Hing
1/2 Tsp. Coriander Powder/ Sukha Dhaniya
1/2 Tsp. Red Chili Powder/ Lal Mirch Powder/ Peprika
1/4 Tsp. Garam masala
1/2 Tsp. Sugar
2 Large Papad ( Made by Dal)
Oil for Frying
Directions:
Wash and soak the tuvar dal in the water for 10-15
minutes. Now drain the excess water and boil the dal with salt, turmeric
powder, ghee and 2 cup water. Cook till to 3-4 whistles and remove from the
fire.
Heat the oil in the pan on medium flame, when oil
is hot enough, add papad one by one and fried it. Remove the papad on tissue
paper.
Now heat the 2 tbsp. ghee in wok. Add mustard seed,
cumin powder, fenugreek seed and asafoetida together, when they start splutter.
Add onion and chilli together, sauté till to little golden. Add tomato, sauté
till to soft. Now add coriander powder, red chilli powder, garam masala
together and mix well. Add dal and cook for 10 minutes more. Now add papad in
big pieces, boil for 5 minutes more. Now garnish with chopped onion on the top
of Dal Papad.
Submit this dal papad recipe with following events:
Blogging Marathon page for the other Blogging Marathoners doing BM#20