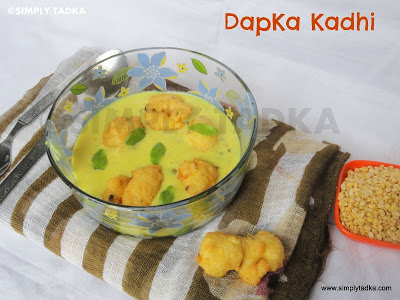 Last Updated on
This time, Srivalli choose Dapka Kadhi from
Gujarati Cuisine for
Indian Cooking Challenge
under May series. As I have no
idea about authentic gujarati recipes, So I choose
Tarla Dalal's dapka kadhi
recipe from her cooking website. According to her guidelines and one of my gujarati
friend, I prepare Dapka Kadhi with yellow split dumpling which serve with gujarati
kadhi and rotlas. Dapka kadhi served
with rotlas, green chillies and garlic chutney is a sumptuous and satiating
meal worth a million dollars! You can prepare dumpling with sprouts or mix vegetables
too for different variation.
According to recipe, we have to cook dapka in kadhi
but personally I prefer to fry them in oil and then serve with kadhi. For dumpling,
you need thick batter of yellow split gram which soaked in lukewarm water at
least for 3-4 hours. If still batter is not enough thick then you can adjust
the batter by adding gram flour or besan. For health conscious people, they can
cook the dapkas in a microwave oven before adding to the kadhi. These days,
Gujarati people also prefer spicy and tangy flavours in food instead of regular
sweetness in curries.
Wiki says:
"Gujarati cuisine refers to the cuisine of Gujarat, India,
a state in western India. It is primarily a vegetarian
cuisine, despite having an extensive coastline for seafood, due to the
influence of Jain vegetarianism and traditional Hinduism. The
typical Gujarati thali consists of Rotli, Dal or Kadhi, Rice,
and Shaak/Sabzi. Gujarati cuisine varies widely in flavor and heat,
depending on a given family's tastes as well as the region of Gujarat they are
from. North Gujarat, Kathiawad, Kachchh, and Surti Gujarat are
the four major regions of Gujarat that all bring their own style to Gujarati
food. Many Gujarati dishes are distinctively sweet, salty, and spicy at the
same time."Top
of Form
Soaking
Time: 4-5 hours
Preparation
Time: 15 Minutes
Cooking
Time: 30 Minutes
Servings:
3-4 Persons
Ingredients
For
Kadhi
2 Cup Curd
5 Tbsp. Gramflour/ Besan
6-7 Curry Leaves
Pinch of Asafoetida
1/2 Tsp. Mustard seeds
1/2 Tsp. Cumin Seeds
1/2 Tsp. Fenugreek Seeds
1 Tbsp. Clarifying Butter
Salt to taste
1/2 Tsp. Sugar, Optional
1/2 Tsp. Turmeric Powder
1 Tsp. Coriander Powder
For
Dapka
1/2 Cup Split Yellow Gram/ Dhuli Moong
Salt to taste
1/2 Tsp. Sugar
Pinch of Soda Bi Carbonate
1 Tsp. Oil
1 Tsp. Green Chili Paste
Oil for Deep Frying
Direction
Wash and soak the lentil in lukewarm
water for 4-5 hours. Blend this lentil with salt till to smooth paste. Add sugar, oil, and chili paste and soda bi carbonate and mix well.
Heat the oil in a non-stick pan, add in a little
dapka batter at a time using your fingertips to form dumplings and deep-fry
till they turn light golden brown in color from all the sides. Remove this on
kitchen towel and absorb extra oil and keep aside.
Combine curd, besan, salt, coriander powder,
turmeric powder together with 2 cup water and whisk well till to no lumps
remain.
Heat the ghee in deep and heavy bottom pan and add
mustard seeds, curry leaves, asafoetida, cumin seeds and fenugreek seeds till
to splutter. Add besan and curd batter and whisk till to boil. Cook for 15-20
minutes and stir this kadhi occasionally. Adjust the salt and sugar according
to taste. Now kadhi is ready. Add dumpling and garnish with green coriander and
curry leaves. Serve dapka kadhi with rotlas or rice.
Enter your email address:
Delivered by FeedBurner