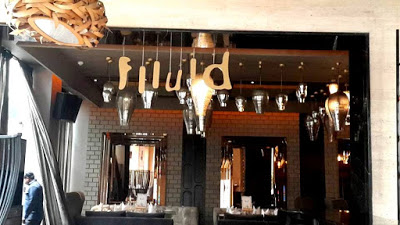 Last Updated on
Flluid
is a restro cum bar that gives more emphasis on food and presentation for more
customer satisfaction. The main agenda is serve good food to people with
awesome service. Flluid Mosaic located in Noida. Whole ambiance and outlook is
a great treat for our eyes. Love the fuga Eco-friendly lights and the way of arranging
the seating area. The main thing about Flluid' menu is flexibility which
can be change according to customer taste, preference and choice. Flluid offers
Indian, Mexican and Continental cuisines for vegetarian and non-vegetarian both
foodies.
I was
invited to taste the new menu which they have recently launched. The menu
focuses on desi videsi fusion in an interesting way to match the needs of youth.
After many trials, chef decided this new
menu with brief detail and innovative presentation. The Marketing Manager, Ms. Divyajyoti,
who join the table with me.
We started
the tasting session with juice which they serve in liquor flask with complementary
appetizer (puff stuffed with mushroom filling) was served in the miniature of an
iron. Next I get Gun powder infused American Corn Chowder in a small skull
shaped glass. Love the flavor of spices and sweetness of corn. The Caesar salad
made with mayo, olive oil, lettuces and veggies was served in the big bun
shaped bread. Personally I don't like creamy salad but looks great.
Next I
tried colored mini burgers with French fries; these burgers are available in three
different colors: green (spinach), red (beetroot) and regular. Then time to
taste Pasta which made with English vegetables in makhani gravy with Virgin
mojito. End this session with sweetness, in dessert we tried gulab jamun cheese
cake with raspberry sauce.
After tasting session, gets the chance
to explore the whole Flluid interiors including private dining area, swimming
zone, smoking zone and lounge area. They also provide great deals and services
for family get together and corporate meetings in private dining area. Love the
hanging fluid shape golden and bronze color lamp which gives boozy look to your
party. Food
is being presents in miniatures of antique iron (used for cloth pressing), Belan Chakli (used for making rotis); Shopping trolleys (used in malls & shopping centers), cooker etc. Even the beverages are being served in boot shaped glass; glass with shark face, glass with a skull, hop side down glass, Hip Flask etc.
Thanks
Mosaic for awesome session and will definitely visit Flluid again with friends
or families.
Address:
Flluid Mosaic, C-1 Sec-18 Noida 201301.
Tags: Mosaic, Flluid, Noida, delhi ncr restaurants, restro-bar,
simplytadka, fusion, continental, Mexican, chinese, indian, review, restaurant
review, tasting session.
Enter your email address:
Delivered by FeedBurner