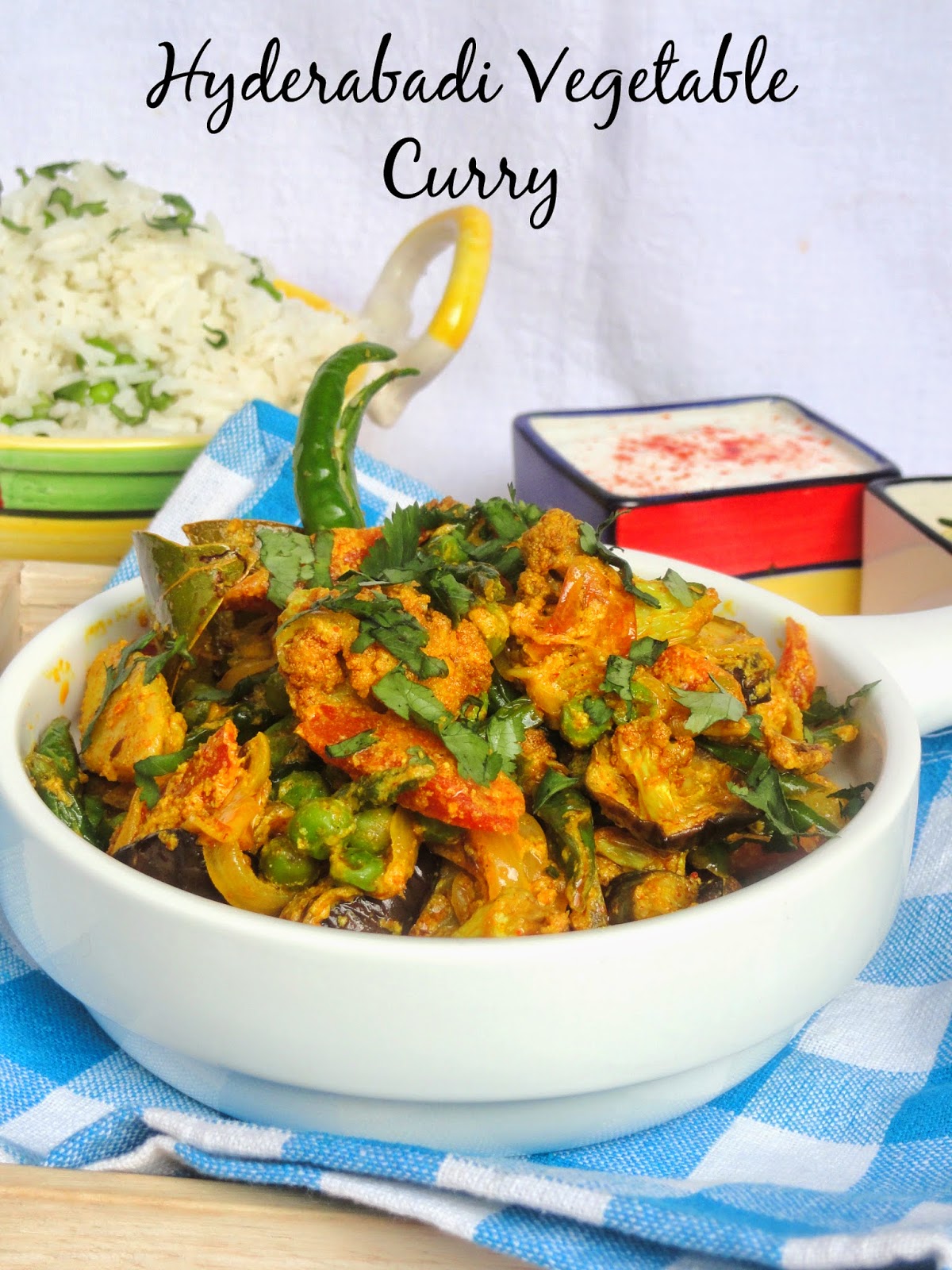 Last Updated on
Hyderabadi vegetable curry is really lip smacking recipe in taste, you can modify the combination of vegetable as per taste or liking. Addition of yogurt gives the creamy texture to this recipe and makes more tempting. In this recipe, you have to fried the each vegetable separately in rice bran oil and combined with boiled peas and potatoes and saute in seasoning. Its a great option for lunch box meal or travel food. You can serve this recipe with rice or roti.
FRBH contains more antioxidants than blended oils or pomace olive oil. They fight harmful free radicals, which cause heart disease and other chronic illnesses, keeping your heart healthy.
Preparation Time: 20 Minutes
Cooking Time: 35 Minutes
Servings: 4
Category: Main course
Ingredients:
2 Medium Sized Potatoes, Peeled and Diced
1 Cup Cauliflower, Florets
1 Cup Carrots, Peeled and Diced
1/2 Cup Aubergine, Round
1/2 Cup French Beans, Diagonal
1/3 Cup Green Peas
2 Medium Sized Onion, Sliced
1 Tsp. Ginger, Finely Chopped
2 Green Chilies, Finely Chopped
1/2 Cup Yogurt
1 Bay Leaf
3-4 Cloves
2 Green Cardamoms
1 Small Stick Cinnamon
1/2 Tsp. Cumin Seeds
Salt to taste
Red Chili Powder to taste
1 Tsp. Turmeric Powder
2 Tsp. Coriander Powder
1/2 Tsp. Garam Masala
2 Tbsp. Fortune Rice Bran Oil
1/2 of Lemon Juice
Green Coriander Leaves, for garnishing
Instructions:
Heat the sufficient Rice bran oil in wok and fry the cauliflower florets, chopped carrots, chopped beans and sliced aubergine individually for few minutes and drain them on kitchen towel to absorb extra oil.
Meanwhile heat the water in a saucepan and let it come to boil. Add diced potatoes with salt and cook till to half done. Add green peas and cook till to completely cooked. strain the potatoes and peas in separate bowl and rinse under cold water to sustain natural color.
Heat the fortune rice bran oil in a pan and add bay leaf, green cardamom, cloves, cumin, cinnamon and after few seconds, add chopped green chilies, ginger and saute one minute.
Add sliced onions and saute till to slightly brown and add whipped yogurt and mix it.
Add coriander powder, turmeric powder, red chili powder, garam masala and cook well.
Add boiled and fried vegetables and salt and mix well. Add lemon juice and cook on low flame for couple of minutes. Garnish with fresh coriander and serve with rice or flatbread.
Tags: How to cook hyderabadi curry, hyderabadi vegetable curry, hyderabadi cuisine, maincourse, lunch and dinner meals, lunch box recipe, curries, mix vegetable recipes, simplytadka, vegetarian recipes, fortune rice bran healthy oil recipe.
"This blogpost is in association with Fortune Foods as a part of their Desi Health Bites Activity- The hunt for the Best Rice Bran Oil Recipes. For more updates and healthy recipes using
Fortune Rice Bran Health Oil
, follow fortune foods on
Facebook
at https://www.facebook.com/FortuneFoods and on
Twitter @fortunefoods
.
Enter your email address:
Delivered by FeedBurner