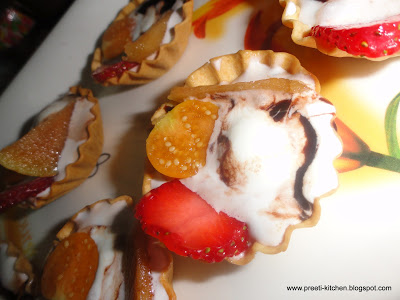 Last Updated on
Chocolate, Ice-cream, Strawberries
and Cape gooseberry combine in this delicate fruit tart. It's a perfect dessert recipe for
family get-together or celebration. For this dessert, no baking and no
cooking required. It can be prepared within 15 minutes, a quick and simple but
very very sweet and interesting dessert which like by everyone. You can easily
modify this recipe with your own taste.
I felt to eat something sweet after dinner so that time,
I found just ice cream at home but I was not interested in ice-cream. Then I found
some Tarts in kitchen rack and some fruit in
freeze, so I got the idea to make it this wonderful
duet flavor tart dessert.
I share
this dessert for the valentine occasion and try this recipe for your love one.
Ingredients
Mini tarts (readymade)
Vanilla ice-cream
Chocolate sauce
Strawberry sliced
Cape gooseberry halves cut
Chikoo sliced cut
Sugar coated saunf
(fennel)
Method
Take a tart fill with
vanilla or any flavour ice-cream which your family like and little decor with
chocolate sauce. Place the tart in refrigerate to set for 15 minutes. Now add
fruits (strawberry, cape gooseberry, and chikoo), it's optional. Garnish with sugar
coated saunf or fennel seeds.
Serve chilled as a starter
or a dessert to friends…
submit to this recipe